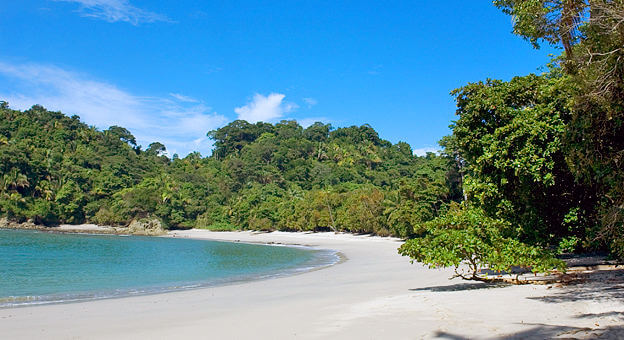 DAY 1
Bajos del Toro
Bajos del Toro is a small valley in the northern area of the Central Volcanic Range in the heart of Costa Rica.
A treasure of nature, beauty, and peace with a small town and a sparse population, Bajos del Toro has unexplored forests and one of the most beautiful waterfalls in Costa Rica.
Airport Assistance
Upon your arrival at Juan Santamaría International Airport, our representative of the Costa Rican Chamber of Tourism will meet you when you leave the Immigration Control and will show you how to find the delegate of the Rent a Car company, for the delivery of a 4×4 model Daihatsu Bego or similar for 10 days with Comprehensive Insurance Included, FREE to choose between a GPS or WIFI during the rental.

El Silencio Hotel (or similar) - 2 nights


DAY 2
Bajos del Toro
This day you will be able to enjoy the facilities of the hotel, its trails, or any of its multiple activities.
If nature is your thing in Bajos del Toro, you can find nature trails, waterfalls, or recreate a bird watching tour. You can also leave a mark on this country by planting a native tree.
If you're an adventure lover, you'll be able to ride to places where no vehicles of any kind arrive, zip-line through the forest or down the vertical walls of thundering waterfalls.
If you want to get introduced to the culture and way of being of the Costa Rican, perhaps this is the best opportunity to see a region that is full of the traditions and customs of the most genuine Costa Rican countryside.
DAY 3
Arenal Volcano
The Arenal Volcano, located to the Northwest of Costa Rica, is one of the most famous tourists and adventure centers in the country.
The Arenal was extremely active from 1968 to 2010, and now small fumaroles remain at their peak.
However, the national park is much more than a volcano, it covers 12,124 hectares (29,959 acres) and four different forest types.
It is a biologically very diverse area, with more than 54% of the country's total bird species (904) and 134 species of mammals, you can enjoy monkeys, sloths, curious coatis, and lucky peccaries and agoutis.
Arenal Volcano has a particularity that makes it unique as a tourist destination. Although the area is highly developed and its hotel and activity offer is very strong, you won't find any international chains of any kind.
The inhabitants of the area, mostly cattle ranchers or prosperous farmers, turned their farms into hotels or tourist projects, giving an authentic Costa Rican flavor to the whole region.
---
This day you will travel to the popular Arenal Volcano area. If you left directly from Bajos del Toro, it would take you approximately two hours to get there.
We recommend that you leave after breakfast for the town of La Fortuna. The route takes you to the plains of San Carlos through forests and beautiful farms with all kinds of plantations.
At the exit of the valley of Bajos del Toro and on the way to Fortuna you will pass by the Yellow Bull Waterfall (Additional cost), a fall of more than 179 meters that is in an ancient volcanic crater and surrounded by virgin forests.
After passing through several small towns in one of the most prosperous regions of Costa Rica, and if the day is clear, you will begin to glimpse at a distance the unique silhouette of Arenal Volcano and its brother, the extinct Chato Volcano.
Registration at the hotel is usually in the afternoon, so we recommend you go to La Fortuna and enjoy the great gastronomic offer of this tourist center.
You can also visit the chocolate tour, the Arenal waterfall (on Cerro Chato) or enjoy one of the many attractions that you will find on the way.

Volcano Lodge (or similar) - 2 nights

DAY 4
This day will be free to tour the area or organize some of the many excursions that will take you according to your tastes to live the experiences you have dreamed of.
If you are a lover of the rainforest and the animals, birds or insects, you will intensely enjoy the walk in the hanging bridges. You will also love to see the old lava fields or the trails of the national park.
If you like adventure, El Arenal is your earthly paradise! All kinds of experiences await you to choose to spend this day: Rafting in rivers surrounded by jungle, rappel down canyons and waterfalls, canoeing on the lake, windsurfing (mainly active in January), long zip lines that will take you in and over the forest and many other activities. For an adventure lover, vacations in Costa Rica are short!
If what you love is getting to know the countries and the people who live in them, Arenal also has a lot to offer you in cultural or agro-ecotourism tours. And if at last volunteering is your thing, in Arenal you will find a great offer that goes from work in schools to rescue centers for wild animals.
DAY 5
This day you will travel to the cloud forests in Monteverde.
We recommend that you leave early so you can enjoy this beautiful road with excellent weather.
Monteverde
Monteverde is located in the Intercontinental Water Division, this means that its climate is varied and practically unpredictable, as there are seasons in the year in which its influence comes from the Caribbean and others in which it comes from the Pacific Ocean, creating a unique dimension with practically unique life zones and endemic species in amphibians, butterflies and birds.
Monteverde's history dates to the 1950s when a group of Quakers traveled to Costa Rica to avoid enlisting in the U.S. military.
They created a small community lost between the mountains of the Cordillera de Tilarán and preserved from that moment the rainforests and clouds that surround it to maintain the sources of water that arrive abundant to the plains of the Central Pacific and the Peninsula of Nicoya.
Currently, there are two reserves worth visiting with two distinct forest types: Monteverde Cloud Forest Reserve and Santa Elena Reserve. In addition to numerous private reserves and a conservation area that extends to the Arenal Volcano area.
In addition to its exuberant nature, you will find numerous activities of all kinds, adventure, culture, ecotourism, agrotourism, and obviously naturalism.
Departure to the Monteverde Biological Reserve area.

El Establo (or similar) - 2 nights

DAY 6
This day is free for you to discover the impressive region of Monteverde and its incredible variety of activities.
If you are a nature lover, we recommend that you visit any of the reserves with an expert guide, who will show you what it costs, at first sight, to see: The Resplendent Quetzal, the Bell Bird or the Northern Emerald Toucanets among others. We also suggest night tours in the cloud forest where animal activity multiplies at nightfall. There are also frog ponds and serpentarium, huge butterflies' farms and sanctuaries for bat observation.
There are also suspension bridges and very high and long zip lines tours.
Another possibility that you may love are the tours of coffee, sugar cane, and chocolate in which you will live the experience of the peasants of the region.
DAY 7
Departure to Manuel Antonio National Park.
As in every day of travel in which you move from one destination to another we recommend you leave early and be alert to the incredible changes in the landscape that you will witness in a single day and a route of less than four hours if you drive without interruption.
You will descend from the mountains of Monteverde to Manuel Antonio National Park passing through tropical dry climate, a great transition zone where you can see a mixture of species of dry forest and tropical rainforest.
But, also, you will pass through numerous small towns, commercial areas and very touristic regions such as Herradura and Jacó, as well as the areas of Puntarenas and Caldera where the multiple cruise ships that arrive at our coasts stop.
Manuel Antonio
Manuel Antonio in the Central Pacific area of Costa Rica is the smallest national park in the country (only has 683 hectares) and the most visited. Also, it is a town, a tourist region and the beaches of Manuel Antonio are among the most beautiful in Central America.
Manuel Antonio National Park is a small wildlife sanctuary surrounded by thousands of hectares dedicated 100% to agriculture and livestock. For that reason, it is a place where animal sightings are frequent, both within the trails, as in hotels and even the road.
Its development was strengthened when the banana company entered the area, and the Port of Quepos was founded to export fruit from the region directly. It currently functions as a thriving marina for yachts, sailboats, and sportfishing boats, as well as a gateway for small and medium-sized international cruises.
The most popular tourist area is on the hill that divides Quepos from Manuel Antonio National Park. At its peak, you will find the village and, on the way, numerous restaurants and bars of all kinds. The hotels are also in this part, achieving that the rooms of the visitors have lovely views towards the sea and the forest.
You can also find numerous apartments and houses in Manuel Antonio if your group is more significant or you want the autonomy and privacy of a property for you and your partner or group.
Upon arrival at the hotel, you will have the rest of the day free to relax by the pool, watch the sunset at one of the many restaurants or the beach, or arrange a catamaran excursion to see dolphins during the sunset. (Catamaran or sailboat tours depend on weather and season).


DAY 8-10
These three days, you will be on your own to rest and prepare for your return home.
Although if you are still planning to get to know and experience the nature and adventure of Manuel Antonio and Costa Rica, you can organize all kinds of tours.
We recommend a walk with an expert guide in Manuel Antonio National Park. Currently and depending on the time of year, the park limits entry to 800 people, so we recommend you book the tour in advance.
You'll also find impressive mangroves and even one-day tours to Corcovado National Park in southern Costa Rica. As well as Carara and Marino Ballena Parks, relatively close to Manuel Antonio.
There are excellent tours to run rivers, zip lines in the forest, and multiple water activities such as surfing, paddleboard, kayaks, and paragliding, among others.
DAY 11
This day you will return to San Jose to pick up your car at the airport and take your flight home.

Approx 10 nights
|&nbsp
11 days
* Special pricing when including the Parador hotel in the package.
* Price in US dollars USD with taxes included (for contracted services).
* Prices based on Double Occupancy, standard rooms except express indication, in the regime indicated in each case.
* Package subject to availability at time of booking.
* Important: The triple and quadruple occupancy rooms only have 2 double beds.
– Package valid for trips to be made before December 15th, 2019.
Included in the package
10 nights of lodging with breakfast included
Rental of 4 × 4 Daihatsu Bego for 10 days with All Risk Insurance and FREE GPS or WIFI for the duration of the rental
24 hour assistance from our office all days of the week Airport assistance the day of your arrival
Not included in the package

Services and activities not specified in the itinerary