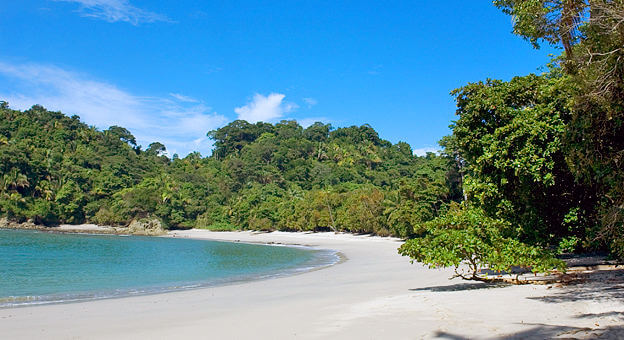 Day 1
San José
San José is the geographic, economic and social center of Costa Rica and a destination to discover some of its most iconic points. In just a few blocks it reunites the cultura and history of the country in more than ten museums of pre-Columbian contemporary art, jade and precolumbian gold, numismatics and history. Also, it is possible to find numerous events, and theater festivals, music and dance, as well as a great gastronomic offer.
A walk along the boulevard of Central Avenue will take you to the roots of the country, passing by the National Theater, icon of culture and art; and walking around the numerous squares and parks where you will see at any time people gather and enjoy beautiful buildings such as the Post Office of Costa Rica and you cannot miss the Central Market, which will give you a genuine glimpse into the way of being of the Tico.
The city is relatively small at its center, but it is immersed in the GAM (Great Metropolitan Area); where several towns of the Central Valley join and almost two thirds of the population lives.
---
Airport assistance
Upon your arrival at Juan Santamaría International Airport, our representative of the Costa Rican Chamber of Tourism will meet you after the Immigration Control and will go with you the exit and guide you to your designated Asuaire driver, who will be in charge of taking you to your hotel in San José.

Auténtico Hotel (or similar) - 1 night


Airport Transfer – San José
Day 2
Arenal
The Arenal Volcano is one of the main attractions of the region and has become a mandatory destination for those who want to visit the country. Located to the Northwest of Costa Rica, is an important touristic and adventure center.
The Arenal was extremely active in the past, and now small fumaroles remain at the peak. It is an almost perfect cone, covered with rainforest on one side and with ashes, stones, and sand on the other. In its foothills it gathers a tourist region full of adventures, excursions to appreciate its nature and several thermal water complexes.
The national park is much more than a volcano, it covers 12,124 hectares and four different forest types. It is a biologically very diverse area, where at least 904 species of birds and 134 of mammals as monkeys, sloths, curious coatis, peccaries and agoutis can be found.
The closest town is the Fortuna, small rural town that in the latter years has been transformed into a tourist center where you can find everything you need: supermarkets, pharmacies, laundries, banks and restaurants of all kinds and budgets.
Although the area is highly developed and its hotel and activity offer is very strong, you won't be able to find any king of international chains. The inhabitants of the area, mostly cattle ranchers or prosperous farmers, turned their farms into hotels or tourist projects; giving an authentic Costa Rican flavor to the whole region.

Arenal Volcano Inn (or similar) - 2 nights


Shared tourist transfer San José - Arenal
Day 3
Arenal Volcano
This day you have a spectacular 2 hours hike through the rain forest where you can appreciate the forest from a unique perspective, learning about its importance and how it works. It is not uncommon to find monkeys, birds, snakes, lizards along the way. The loop trail is about 2 miles (3.2 km) long and consists of 15 bridges, 6 of them suspended in the air, allowing for breath-taking views of the green, lush rain forest.
Includes: Bilingual guide, transportation, drinks, snack and entrance fee.
Natural Historic Walk Hanging Bridges
Day 4
Manuel Antonio
One of the most complete vacation destinations in Costa Rica ensuring that your last days of vacation are pleasant and relaxed. A wildlife sanctuary that has everything! This small National Park (within only 683 hectares) has beautiful beaches, clean and warm waters, amazing forests, an abundant variety of animals, and a complete menu of activities ranging from extreme adventure to experiences with Costa Rican peasants that will allow you to know something of the culture of the Costa Rican South Pacific.
This popular tourist area is on the hill that divides Quepos from Manuel Antonio National Park. At its peak, you will find the village and, on the way, numerous restaurants and bars of all kinds. There are also hotels in this part, achieving that the rooms of the visitors have lovely views towards the sea and the forest.
With a lush tropical nature, this small national park offers an abundant wildlife where is hard not to see monkeys, sloths, coatis, agoutis, and iguanas in the area. This tourist region is one of the most easily accessible in the country, as it is relatively close to the city of San José and to the Juan Santamaría International Airport (SJO) so it can be reached either by plane or by car.
Manuel Antonio National Park is CLOSED on Mondays.

La Mansion Hotel - 3 nights


Shared tourist transfer Arenal - Manuel Antonio
Day 5-6
On these free days you can simply relax, enjoy the beautiful climate of the area, the swimming pool, and the hotel facilities. But if you are still planning to get to know and experience the nature and adventure of Manuel Antonio and Costa Rica, you can still organize all kinds of tours.
We recommend a walk in the Manuel Antonio National Park with an expert guide. Currently and depending on the time of year, the park limits entry to 800 people, so it is best if you book the tour in advance.
You will also find impressive mangroves and even one-day tours to Corcovado National Park as well as to Carara and Marino Ballena Parks, that are relatively close to Manuel Antonio. If you love adventure, Manuel Antonio has a lot to give: zip lines through the virgin forests with the marine landscape in the background, kayaks in the sea or in the mangroves, paragliding to observe the forest, the coast and the nearby islands. Rafting in rivers surrounded by untouched jungles or jumping onto a lagoon from a waterfall.
If you are fascinated by aquatic sports, you can find snorkeling and diving, surf school and paddleboard, tours to see whales and dolphins (during season) or artisan fishing, sailboats, and catamarans that will guarantee beautiful views (catamaran or sailboat tours depend on the weather and season).
The sunsets at Manuel Antonio are spectacular, and it is always a good idea to arrange something for this last tropical sunset before returning home.
Day 7
The rest of the day you will be free to prepare your trip home or explore a little more of the capital city.

Auténtico Hotel (or similar) - 1 night


Shared tourist transfer Manuel Antonio - San José
Day 8
Your transfer to the airport is arranged to arrive on time for your flight.
On this day, the driver and vehicle that will take you to Juan Santamaría Airport will pick you up after breakfast for your return home. *The breakfast modality will depend on the flight schedule.
If the departure is late, you can organize one of the many excursions that are held from San Jose. Or explore a little more of the city.

Transfer San José - Airport
* Special pricing when including the Mansion hotel in the package. * Price in US dollars USD with taxes included (for contracted services). * Prices based on Double Occupancy, standard rooms except express indication, in the regime indicated in each case. * Package subject to availability at time of booking. * Important: The triple and quadruple occupancy rooms only have 2 double beds. – Package valid for trips to be made on September and October 2019.
Included in the package
24 hour assistance from our office all days of the week Airport assistance the day of your arrival
Not included in the package