Panama is one of the favourite tourist destinations for travellers from all over the world who are looking for tropical white sandy beaches and turquoise waters, in addition, of course, to the sun, incredible landscapes and an extensive and varied ecosystem. 
In this article, we'll let you know which are the best beaches in Panama, the ones that tick all those boxes, so you can enjoy them with your family, partner or alone.
What are the best beaches in Panama?
Basically, this Central American country has countless tourist attractions of this type, so choosing the best of them is no easy task. 
The factors are varied and more than anything based on the beauty of its landscapes, the tranquility of the environment, the richness of the ecosystem, the activities that can be done there and, of course, on what tourists think. 
Now, let's get started!
Cayos Zapatilla beaches in Bocas del Toro
These are two beaches located on two facing islands. Both are located in the southern region of Bastimentos Island, which is part of the Bocas del Toro archipelago, in the northwest of Panama, in the province that bears the same name. 
Both are among the best beaches on Panama's Caribbean coast.
The first is North Cayo Zapatilla, with an approximate area of 18 hectares. The other Cayo Zapatilla (the southern beach) is bigger at approximately 34 hectares, and almost double the size of the previous one.
The most incredible thing about the Cayo Zapatilla beach is its coral reef, which surrounds both islands and can be seen thanks to the transparent, crystalline, turquoise waters which surround the islands. This quality allows underwater wildlife to be observed without much effort, with a simple snorkel or by dipping your face in the water.
However, you can't snorkel or dive all the time, because there are times when the waves are very strong. Nevertheless, when you go towards the Zapatillas there is Cayo Coral, which is recognised worldwide as one of the best places for snorkelling and seeing corals.
A fundamental recommendation is that you bring water and food when you visit this island, because due to it being part of the Bastimentos National Park, there are no shops, restaurants or anything like that where you can buy food. 
In addition, the ecosystem of this island is carefully looked after, so any activity that alters the balance of the site's biosphere is not allowed.
Perro Island and Pelicano Island in San Blas
These two islands in the Pacific are the islands that appear in television series and Hollywood movies, which help us travel to unique paradisiacal places across the world in our imaginations.
Both are part of the San Blas Islands, a complex of 365 small islands. Both are quite small, so they still retain that scale of a sparsely inhabited place which hasn't been invaded by civilisation.
The San Blas Islands are inhabited by Guna Indians, who welcome tourists.
Both Perro Island and Pelicano Island have the typical vegetation of the area; tall palm trees that sway in the wind. There are also huts, which a few people live in.
On these islands you can swim in calm, crystal-clear turquoise waters, and walk out to sea a great distance to observe the fauna that inhabits this paradisiacal environment.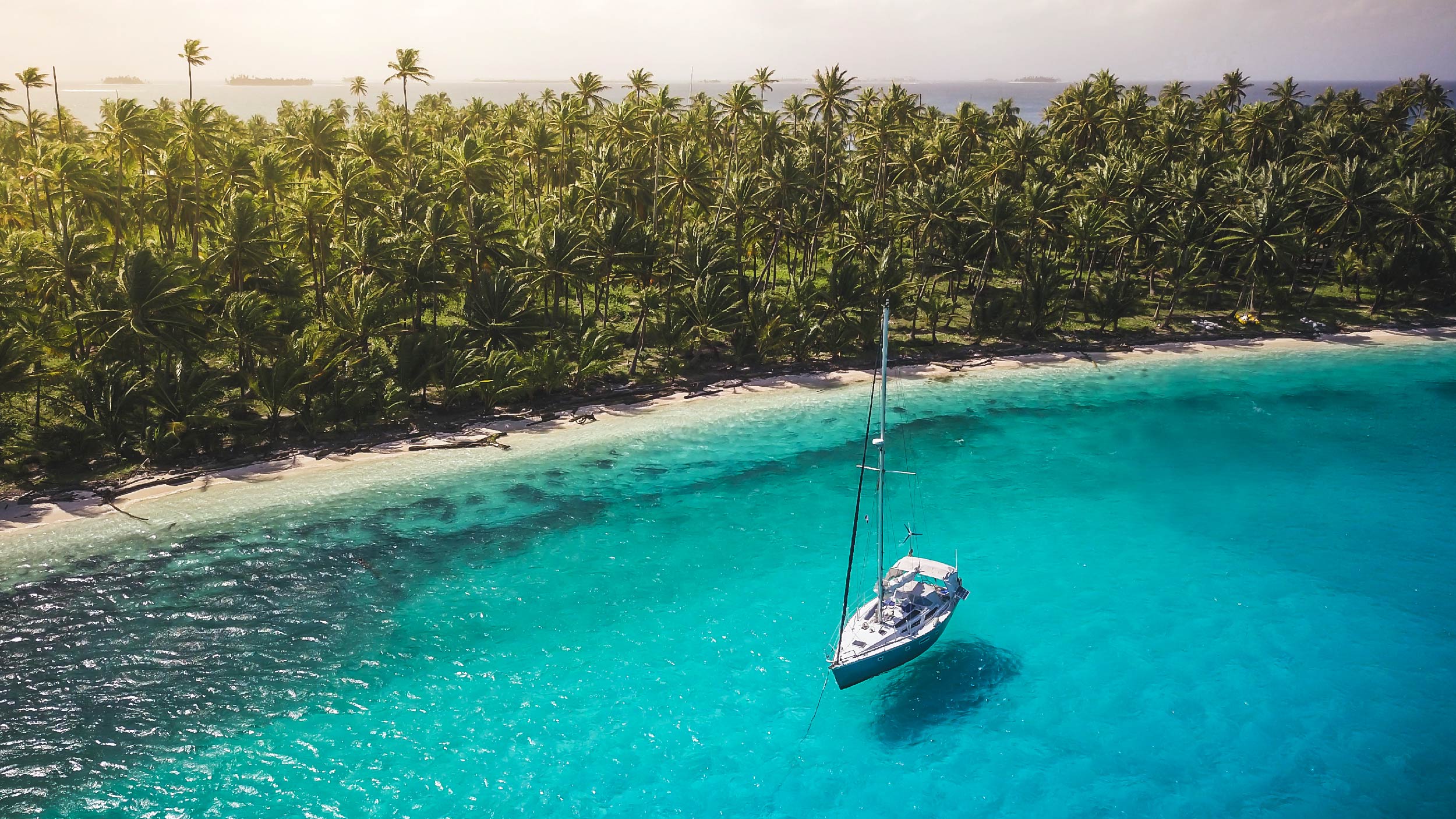 In addition, the natives wait for tourists with a volleyball net and they'll challenge you to a match as an initiation rite which you can't avoid.
Air Panama is the only option for getting to the San Blas archipelago. The airline offers flights to the Guna Yala region at the airports of Achutupo (ACU), Corazon de Jesus (CZJ), Playón Chico (PYC), El Porvenir (PVE), Malatupo (MPP), and Puerto Obaldía (PEU).  But check with us beforehand, as they change constantly. 
The flights are made with very small planes, with a maximum of 20 passengers.
The flight time is approximately one hour and they are not scheduled routes. It's best to ask us before booking. 
Lastly, camping is allowed on these islands, so taking a tent with all the gadgets and equipment necessary for a quiet stay will be very useful. 
In addition, the weather is excellent and you won't be too hot or cold at night. Just remember to bring a mosquito repellent and use suncream to protect your skin from the intense rays.
Taboga Island in the Gulf of Panama
This island is volcanic and is located in the Pacific Ocean. It's also known as the Island of Flowers due to its abundant vegetation and multiple colours throughout its maritime area.
One thing that makes Taboga Island different from the previous islands is that here you can enjoy long walks, because it is much larger than the islands mentioned above. Taboga Island has incredible forests and trails, which you can walk along, and areas of ascents and descents which are part of its ridges and hills near the coast.
This island gives you the opportunity to mix both experiences; that of colourful and dense nature, and that of the sea and underwater coast. In the latter you'll find, in addition to the beauties of the Pacific, hundreds of fishermen who go out to work every morning. 
This has become a great tourist show: see how they throw themselves into the sea and return with fresh fish to feed the people.
Coiba Island in the Chiriquí Gulf, Veraguas Province
This island is located in the southern province of Veraguas and belongs to the districts of Montijo and Soná. 
It's the largest island in Panama with a total area of 493 square km. 
It was declared a World Heritage Site in 2005 by UNESCO. This island is a national park, which incorporates a nature reserve with an area of approximately 207,130 hectares. 216,543 of these hectares are marine.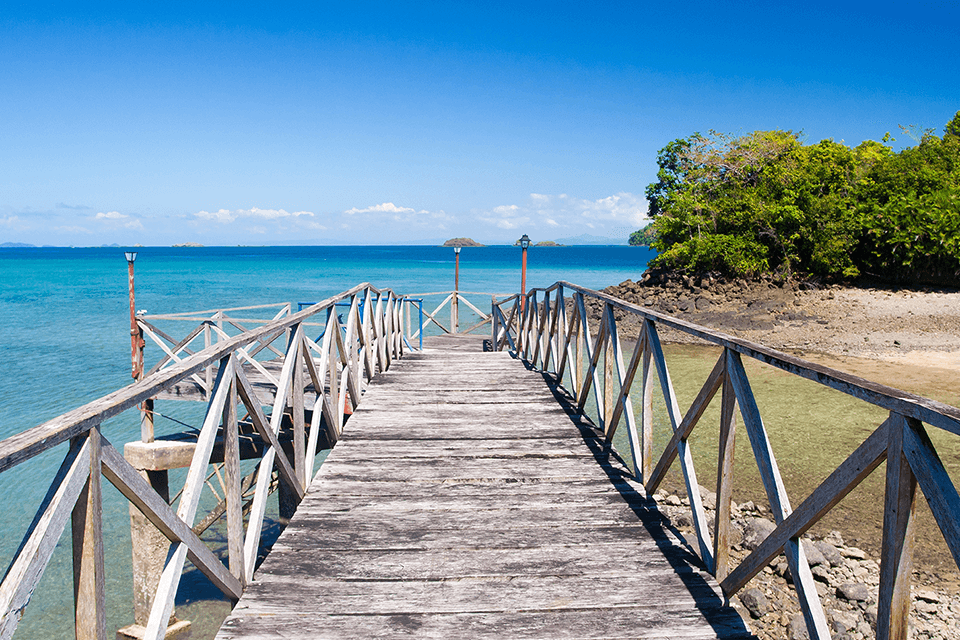 Thanks to these characteristics, it's possible to enjoy diverse and abundant fauna, with 36 species of mammals, 39 amphibians and reptiles, and 147 birds of different sizes and multiple colours. 
In addition, the abundant vegetation that is rich in primary forest trees creates interesting routes within, which you can visit before or after diving into its wonderful waters.
In these incredible waters you'll find corals with intense colours, which you can observe in detail thanks to the clarity and transparency of the water. 
Specifically, in Damas bay you can see a reef of more than 135 hectares, which makes it the second largest in the tropical American Pacific.
In addition to all the beauty of this paradise, its perfect climate and warm and transparent waters, you can visit the island's old prison.
Interestingly, the conservation of these islands is due to the fact that it was a penal colony from 1919 to 2004. 
To get there you can take a small plane from Panama City, a flight which lasts around 25 minutes. For this you need special permission from ANAM. 
Another alternative is to take a boat from Puerto Mutis, which is 18 kilometres from Santiago. To get to Santiago you can take a bus from the Albrook terminal.
Lastly, another alternative is to take a speedboat from Santa Catalina. To get to Santa Catalina you can also take a bus from Albrook, which takes about 5 hours to arrive.
Without a doubt, Coiba Island has the best beaches in western Panama. 
Other similar beaches you can find on the continent are Morrillo beach, just in front of Coiba Island, and La Marqueta beach, in the northern part of Panama.
Iguana Island in the Azuero Peninsula
This island is located on the Pacific coast to the south of the Azuero Peninsula, in the province of Los Santos. It's a small island of 0.53 square km and contains two white sandy beaches which are unique in the Pacific due to their tranquility.
This island is the product of numerous underwater volcanic eruptions, which release intrusive basalt rock over the seabed that accumulates until it emerges from the sea level and forms the land. This is the reason for its flat surface and unique geography.
Due to these characteristics, the island was declared a protected area in 1981 and is visited by all kinds of professionals interested in studying it: biologists, scientists and, of course, tourists.
The beaches on this island are perfect for lovers of sun, sand and paradisiacal waters, because it's possible to enjoy its white sands, snorkel and walk around its perimeter observing the more than 5,000 frigate birds which fly over the Island with great tranquility every day of the year.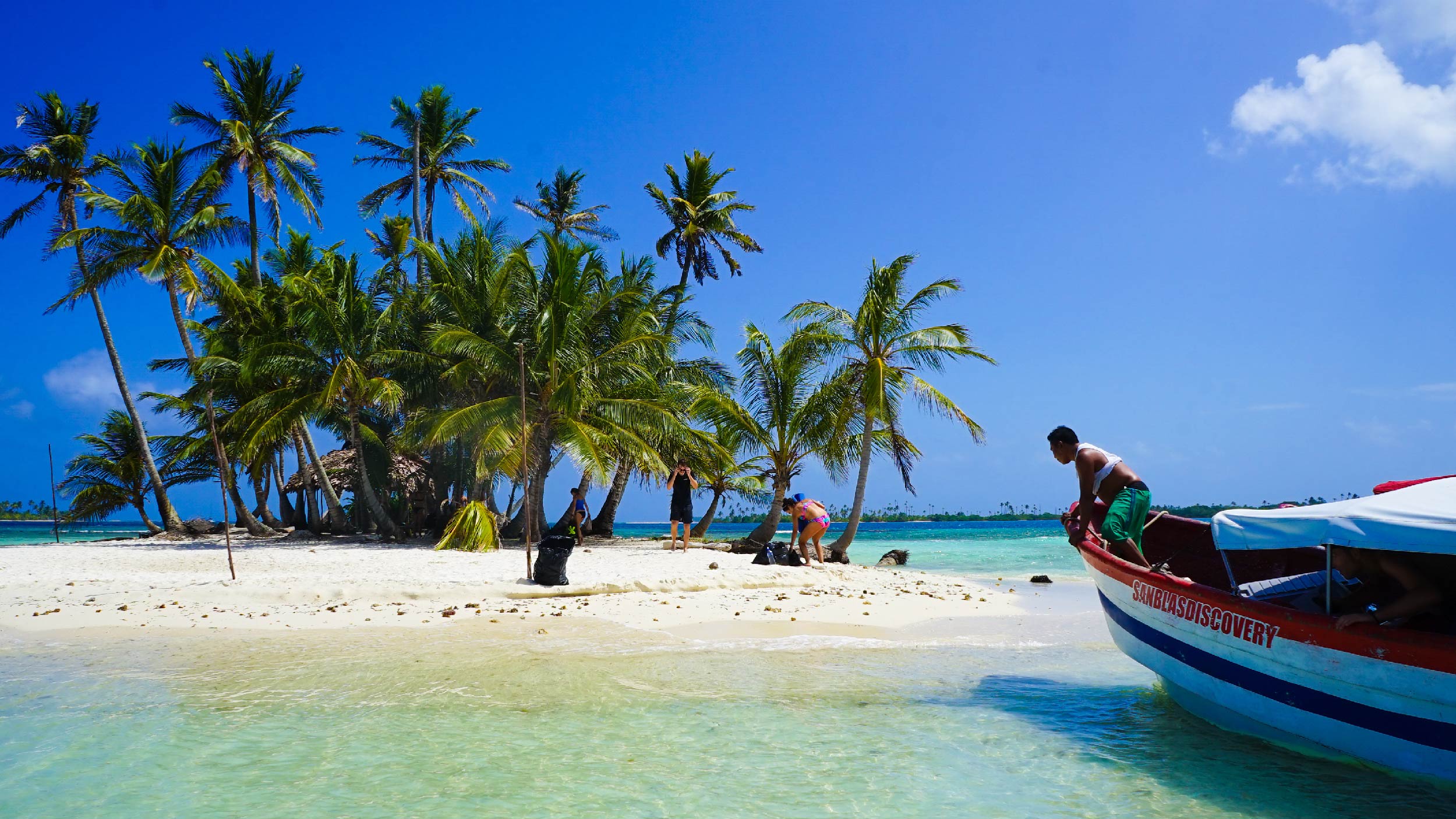 Like most of the islands mentioned above, it has one of the most important coral reefs in the Santeño and Azuero Pacific. This is one of the reasons why the beaches of this island are white sand, since this sand is a product of the erosion of the reef itself.
One of the most amazing sights on this island is the migratory and permanent presence of humpback whales and dolphins. Among these dolphins, you'll find the Pacific spotted dolphin and the bottlenose dolphin. You'll also share the beaches on this island with those iguanas and hermit crabs, which have no problem with approaching visitors.
Bluff beach, Colón Island in Bocas del Toro
Bluff beach is among the best beaches in Panama for surfing. It's visited throughout the year by surfers from all over the world who arrive in Bocas del Toro, in the north of Panama, on the Caribbean Sea, to ride its over two metre-high waves.
Here are some of the activities which can be done on this beach: not only surfing all day, but also walking along the beach, resting in the shade of a palm tree enjoying the warm breeze, watching birds such as hummingbirds and the four species of sea turtles which usually appear on the coast.
In addition, on the island you can find the Playa Bluff Lounge, where you can enjoy a cold beer or a citrus cocktail to cool down.
To reach Bluff Island beach, you can take a taxi from Boca Town, which will take approximately 20 minutes to arrive. 
This service costs about 15 USD. Another way to get there is by bike from the same town. In this case you'll take about an hour.
Gámez Island in Boca Chica
This island located in the Gulf of Chiriquí comprises one of the most incredible environments that you can find in the entire Pacific area of Panama.
 In addition to its unspoilt beaches which don't have any restaurants, shops, cultural products or tourist interests, you'll be surrounded by an abundant and wild rainforest, which will give you the feeling of being in the middle of an untamed and unexplored landscape. You'll find many shades of mangroves, which plunge into the ocean forming a large coastal landscape.
The best thing about the unspoilt beaches of Gámez Island is that they are completely isolated, which means they are seldom visited. If you like solitude and being surrounded by abundant nature, then this island is for you.
As Gámez Island is located inside the Gulf of Chiriquí National Marine Park, the entire area is protected, so you can enjoy plentiful and unspoilt wildlife. 
During August, September and October, you can see humpback whales on their way to the gulf of Chiriquí to begin their nesting period.
To get to this island you have to go to the town of Horconcitos via the Inter-American highway and, from there, go to the port of Boca Chica. You can take a boat from its public dock, next to the Sport Fishing Lodge, which you can rent from the locals, who always leave for open sea very early in the morning.
As Gámez Island is uninhabited, we recommend you bring bottled water or another beverage and food and snacks for the whole day. Also, don't forget to bring a good suncream, because the sun on this island is strong and never stops.
Playa Blanca, 90 minutes from Panama City
One of the most visited beaches in Panama due to its proximity to the capital. In addition, it has a large number of facilities and resorts of various kinds.
 Just like some of the islands and beaches mentioned above, Playa Blanca has white sands and warm crystal-clear waters, ideal for diving all day long, no matter what.
Among the activities you can do with your family or friends on this beach are fishing, horse riding, golf, beach football and volleyball, for example.
The wide variety of options of places to stay allows you to choose the one which best suits your budget. It's possible to choose lodging from 10 USD, in hostels and boarding houses, up to 100 USD and more if you choose three or four star hotels, which are plentiful in the area.
Playa Blanca also has the largest swimming pool in the country, where you can do all kinds of activities and sports, as well as swimming, of course, and have fun with family or friends.
To get to Playa Blanca it's only necessary to rent a car (if you're willing to pay or if you're going to be moving around the country during your visit) from Panama City or take a taxi which will take you there directly. You can also take a bus from the same city. In both cases it will take you about 90 minutes to reach Playa Blanca.
Santa Catalina Beach
This beach located in Soná in the Province of Senaguas has an excellent climate throughout the year, varying between 16 and 30°C. In addition, Santa Catalina is renowned worldwide for being a must-see place if you're a lover of surfing.
To get to Santa Catalina it's necessary to make a four-hour trip from Panama City to Santiago de Veraguas and from there to depart early to Santa Catalina. 
On this beach you can find hotels of all kinds, from basic hotels, where you rent only the room, to others which are all inclusive, where you'll have continental breakfast, amenities, etc.
Beaches you'll never want to leave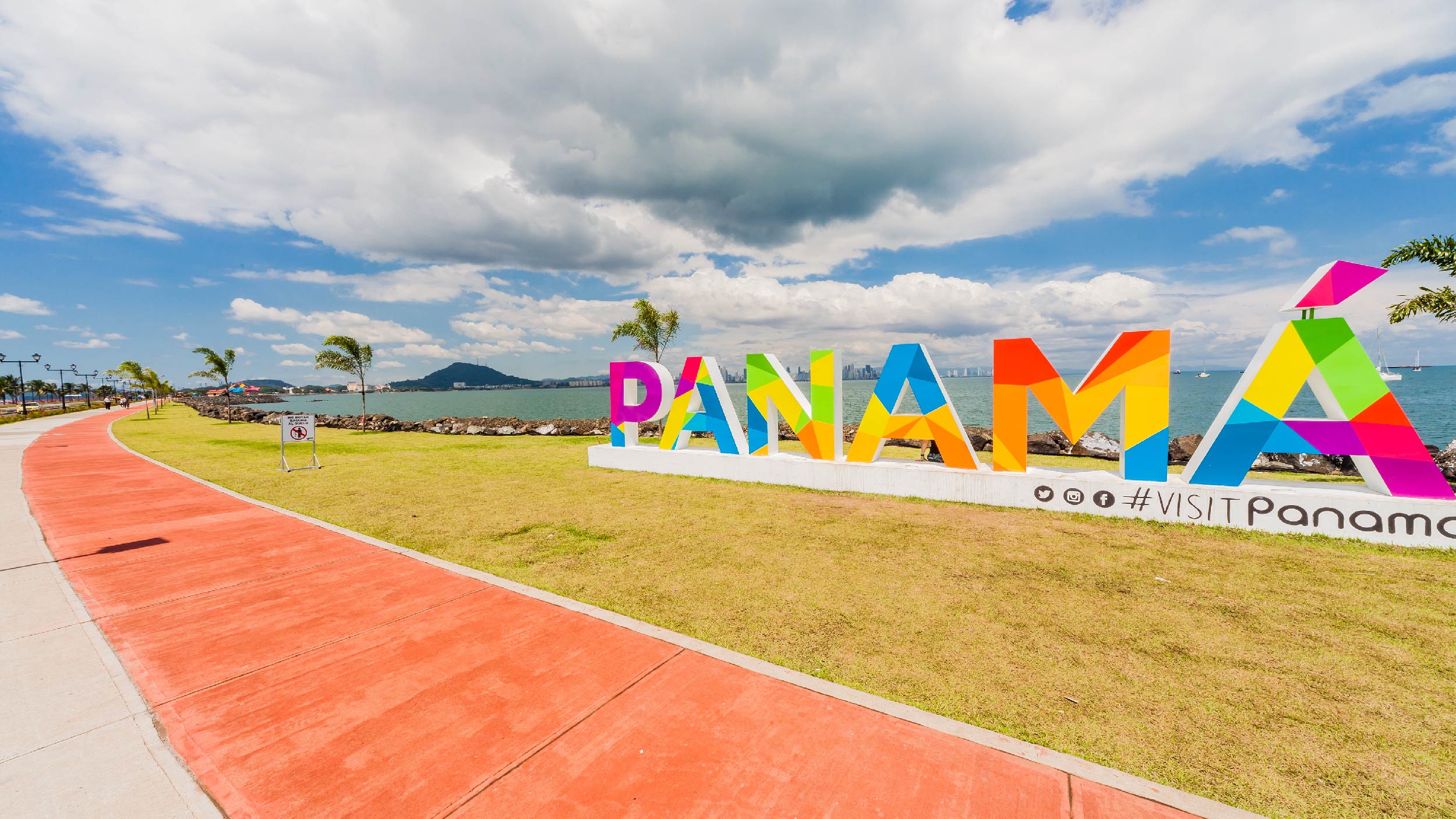 As you've already been able to gather, the best beaches in Panama are numerous and each one has unique characteristics which make it special. Either way, whether it's the Caribbean beaches or the beaches on the Pacific coast, all them have crystal-clear waters and paradisiacal landscapes, rich vegetation and white sands that will make your holiday the best of your life, whether with family, friends or alone. Dare to plan a trip and visit these fantastic places!