You may have often thought about travelling to Panama  or one of its islands. San Blas comes highly recommended, so we wanted to tell you more about it. 
In this article, we will look at how many islands San Blas has and other important information if you are thinking of visiting. And if you have not planned it yet, we will also give you information about what to do and why you should visit, which is sure to give you wanderlust.
So, if you want to learn more about these wonderful islands and everything you need to know to visit them, read on. 
Here we are hoping to answer your big questions about visiting this wonderful country so you can just focus on enjoying yourself.
How many islands does San Blas have and which are the best?
Here comes the first interesting fact about this archipelago. San Blas has no fewer than one island for every day of the year. That makes 365 islands. This tropical region makes the landscape unique in South and Central America.
You might be wondering whether you can visit every one of the islands. The fact is that some of them are tiny and not worth the trip, because they are uninhabited. However, the Panamanian native population is spread over 80 of these islands, specifically the Guna Indians who come from the Guna Yala region. In total, it is estimated that the population of the islands is about 50,000 people.
These indigenous people are lucky to live somewhere as beautiful as this. And this might be why craftsmanship is their main way of life. When you live in a place surrounded by natural art, you cannot help but capture it somehow. So if you visit the area, you will have to buy a gift made by this group of people.
As well as the many islands of San Blas, it is worth mentioning the quality of the water (completely crystal) and the variety of marine species that live there. That is why if you visit this archipelago, you will be keen to find an activity that gives you the chance to appreciate this underwater life. If it is so beautiful above the surface, imagine what it must be like below. So if you would rather not dive, we recommend choosing a simpler activity like snorkelling. You will be so glad you have experienced the Caribbean Sea in this way.
Where should you stay in this archipelago?
When you visit one of the archipelago's islands, you will want to know where to stay. There are many options like hotels and resorts, but the most typical and economical is to choose a cabin, either on the sand or even over the sea. And if you are a real adventure lover, you can spend the night in a moving home like a boat or even camping in the mountains.
First of all, you should choose which island or islands you want to stay on. As we have said, the archipelago has countless islands but only 80 are inhabited, and only 49 of those are permanently inhabited.
 This means that they have facilities like schools, shops, medical professionals and, of course, more accommodation options. Some of the best known islands are Isla Fragata, Isla Perro Grande, Isla Diablo and Isla Perro Chico. Any of these have places to stay, although if you prefer a more intimate island with fewer services, there will still be somewhere to go.
Once you have planned your journey and overnight stops, you should think about what type of accommodation you would prefer. As we have said, this archipelago offers some pretty original accommodation options that you may not find in other places. You should also decide whether you want food to be included in your accommodation, or whether you would prefer the option of using shops or eating in small restaurants that you will find on the larger islands.
The last thing to think about is the number of nights you want to spend on the San Blas Islands. This will all depend on the purpose of your trip and the total number of days of your visit. For example, if you have about 10 days to visit Panama along with other areas, we think two nights in San Blas would be enough to experience the magical nature and get to know the native culture. However, if you are travelling for relaxation and to enjoy the crystal clear waters of the Caribbean Sea, you could spend 5 to 7 days here and visit more than one island.
How do you get to the San Blas Islands in Panama?
Without a doubt, one of the most frequently asked questions is how to get to the San Blas Islands from Panama. All of these islands are fairly small and the only means of transport is by small boat. 
The best way to travel to Guna Ayala is by plane. The service is provided by Air Panama from Albrook to several of the islands. They are small airplanes for 5 or 6 passengers costing around US $150. 
Another option, and one of the most exclusive accommodation options is a private yacht or boat near the coast.
We will assume that, in this case, transportation is taken to the islands from Panama City, as it is the most straightforward and convenient option. 
You can arrange all transport through a travel agency, or do it on your own, although that is more complicated given all the different stages involved.
The first stage is going to the Albrook bus terminal in Panama City. 
From there, you can catch buses to Cañitas, Aguas Frías or Darién, which are some of the closest places to the archipelago.
When you get on the bus, tell the driver that you want to get off at the entrance road to Puerto de Cartí, which is where the island-bound boats leave from. 
You can also travel by private transport, or by renting a car, although it is important to note that the road is not in very good condition, so the car must be an SUV.
From the access road to Puerto de Cartí where the bus will drop you off, it is still 40 kilometres to the port, so you will need another mode of transport from there. 
There are private drivers who provide shared trips twice a day, one in the morning and one in the early afternoon. It costs approximately $50 per person.
After a half-hour journey, you will reach Puerto de Cartí where various boats leave for the islands. Boats can be hired from one island to another, or you can go on a tour that will take in several islands.
Essentially, the first step is getting to Puerto de Cartí and then taking whichever boat is going to the island you want to visit. Travelling by boat is essential for getting between the islands and returning to Puerto de Cartí.
As you can see, there are various things to think about when it comes to getting to the islands, but much of their beauty undoubtedly lies in that fact. And you will not be disappointed. 
We would recommend booking a full excursion to make the trip much easier.
What is there to do in the San Blas Islands?
Now that you know more about the archipelago, like how to reach the San Blas Islands from Panama City and where to stay, you will be wondering what to do when you get there. So, what are the main reasons to visit San Blas?
Marine environment and nature
As we have already mentioned, one of the main reasons to visit this place is, without a doubt, the nature that completely surrounds it. 
These islands lie in the Caribbean Sea, which has the most impressive crystal waters in the world, as well as a wide variety of animals. 
So if you love nature and animals, algae and marine life in general, this is somewhere not to be missed. 
On the islands you can enjoy activities like snorkelling where you can see everything that goes on under the water up close. 
And although the islands are not very big, we also recommend walking and enjoying the short trails so you do not miss anything that this marine environment has to offer.
Something else you cannot miss if you go to San Blas is seeing the sunset and sunrise. These times of day are totally magical on the islands. And if you talk to a local, they will tell you the best places to see them. 
Because the islands are small, you will easily be able to walk to any of these places.
Culture and traditions
All Panamanian culture is undoubtedly very special in terms of the festivals they celebrate. And San Blas is no different. In fact, the archipelago currently has an autonomous government, which is the key to preserving its culture as much as possible.
One of the most typical native traditions takes place on December 31. 
Instead of celebrating the beginning of the year with family and friends around a table full of food as is usually the case in European countries, the Guna tribes do things a bit differently.
These Panamanian inhabitants burn an old doll on a bonfire in the middle of the island. This is to symbolise the end of the old and finishing the year this way means they can enjoy a fresh start to the next 365 days.
 How is that for a celebration?
Of course, some of the ways the island's locals spend their time are not all that different from how we do things in Europe, like playing dominoes and playing sports like volleyball.
If you visit the islands, make sure you find out about some of their older traditions like the nose piercing festival or the hair cutting ceremony. 
The piercing party takes place when girls are young, and their nasal septum is pierced by inserting a ring that is replaced by larger ones as the girl grows. During this ritual, those who attend are given soup and other food. 
The hair cutting ceremony is increasingly in decline due to its high cost. And it is a celebration that lasts for 3 days, where a girl around 8, 9 or 10 years old has her hair cut and is given a name. 
And her family must make soup for the whole community.
All of these native customs and celebrations are unique and part of a very special cultural heritage. 
If you want to make the most of your time on the island, you should find out as much as you can about each one of them and even ask local or Panamanian guides to get the full story.
Guna crafts
As we said before, art is such a big part of the Guna culture that it has become one of their most common forms of work. 
This craft involves making colourful textiles with different materials that create very interesting and unique fabrics. These are called molas, but they also regularly make chaquiras, decorative elements for the arms and legs that include synthetic pearls.
If you have the chance to watch them while they work, we would recommend asking them more about how they create these unique items. 
If you are fond of crafts, you will love this experience and you will be able to see new ways of working with fabrics.
Food
The last thing you must experience to make the most of your time on the island is the local food. Being an island, there are not many ingredients available and the food is mostly seafood (fish and shellfish), rice and 'patacones' (fried plantain). 
However, enjoying a meal on the beach or in the island's small shops and restaurants is a lovely experience. 
It is also common to serve plantain, cassava, coconut milk and other natural dressings with a meal. The fish is fresh and the preparation methods are traditional, so the results are exquisite.
These are the main reasons to visit the San Blas Islands. We think they are unmissable if you are in Panama and have at least one or two days to spend surrounded by nature.
 And who knows, you might decide to come back one day and spend your whole holiday enjoying this archipelago of 365 islands.
We hope we have provided you with all the information you need on the most important things to think about when planning your trip and that this article has answered any questions you might have had. Do not forget to take a look at this and other unmissable destinations on our website if you are planning a trip to Panama. With all that is on offer, you will be able to find the perfect combination of culture, nature and history that this country has to offer.
We told you about how many islands San Blas has, how to get to the San Blas Islands in Panama, what to do in the San Blas Islands and what the main attractions are in this amazing place.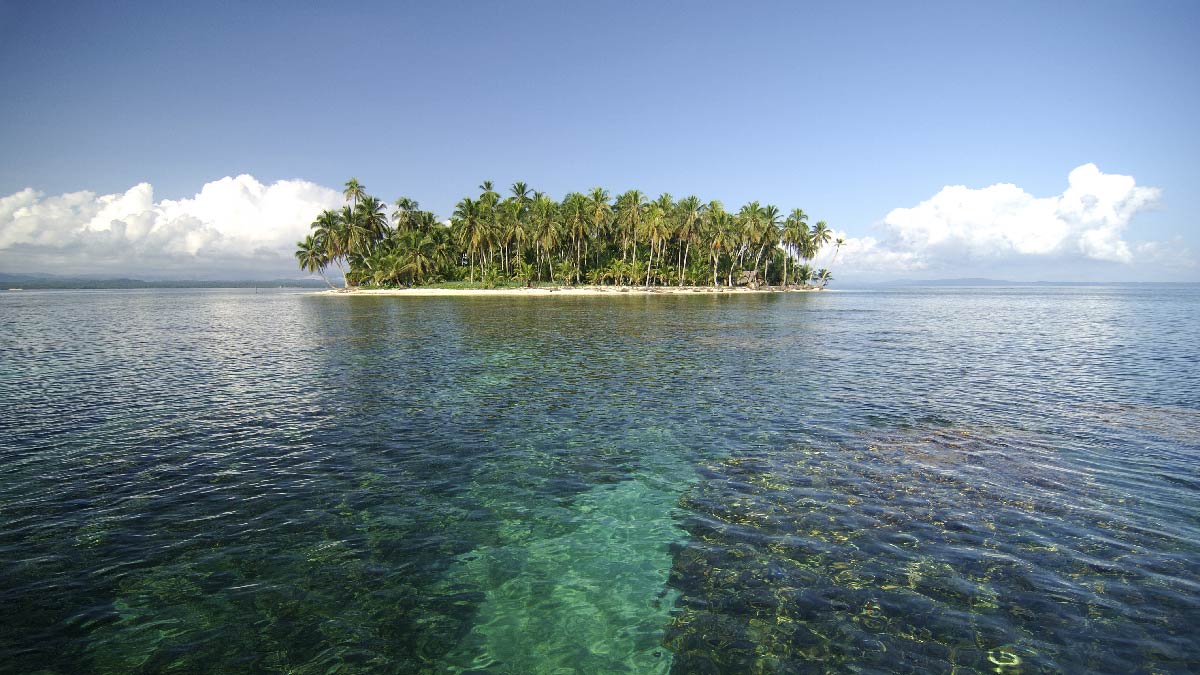 So if you are looking for an unspoiled paradise with incredible marine life and activities to see it, this destination should be right at the top of your list of places to visit. It is, without a doubt, one of the most magical places on earth (and not very well known), and you will have to pinch yourself to make sure you are not dreaming.