If you didn't already know, the countries that make up Central America are home to a number of natural treasures that are well worth planning a visit to.  To help you plan your best trip yet, Asuaire Travel compiled this list of what we think are the 8 most unmissable Central American nature spots you should definitely visit in this new year.  
1. Arenal Volcano in Costa Rica
Just is one of  five active Costa Rica volcanoes, Arenal is definitely one of the most beautiful. Arenal Volcano is a spot worth visiting early in the morning before cloud coverage sets in, so you can fully appreciate its conic shape and overwhelming size.  
In your down time, be sure to stop by for a relaxing dip in some of the volcano's lovely surrounding hot springs!
2. Lake Atitlan in Guatemala
This immense body of water in a volcanic crater Guatemala's southwestern highlands is utterly breathtaking,is one the bests things to do in guatemala.  The lake Atlitan is surrounded by majestic pointed volcanoes and is immersed right in the center of Mayan culture.  
Close your eyes and breathe it in, but not for too long; you won't want to miss a second of this unbelievable beauty!
3. Ometepe Island in Nicaragua
This island set within massive Lake Nicaragua is known for its twin volcanoes, the Concepción and the Maderas.  The amazing views aren't the only reason to visit; Ometepe Island is home to a number of hiking trails, the beautiful San Ramón Waterfall, some nice lake beaches, and the Ometepe Museum.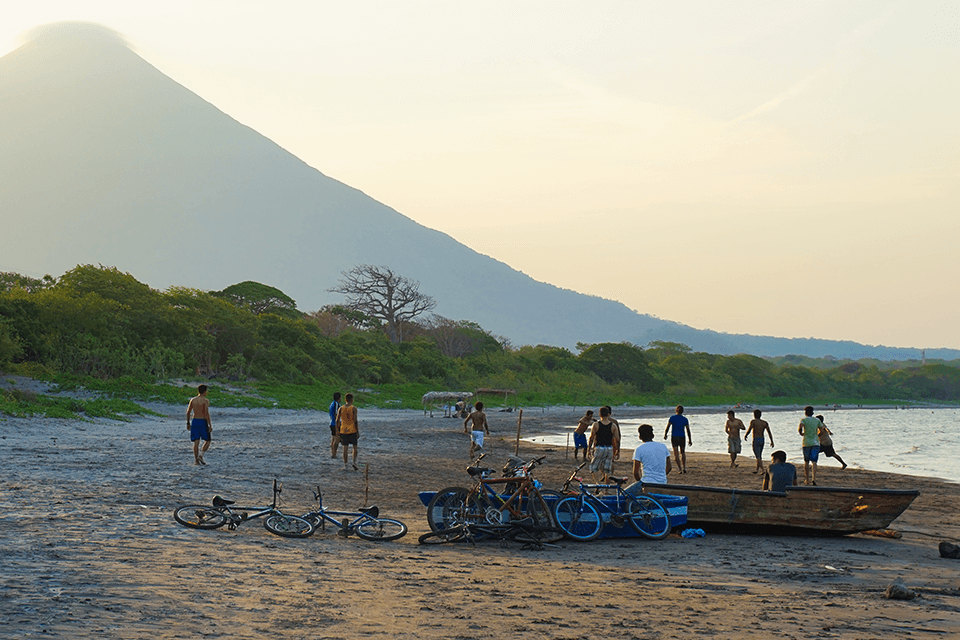 An island you'll want to explore entirely!
4. Monteverde Cloud Forest in Costa Rica
The gorgeous view across the mountains all the way to the Gulf of Nicoya is practically reason enough to visit Monteverde, but if you need more convincing, there's also the incredible biodiversity, the amazing misty sunsets, and a healthy dose of adrenaline courtesy of the many hanging bridges and zip-line spots.
Definitely one of the best places to visit in costa rica this year!

5. San Blas Islands in Panama
Three hundred and sixty five paradisiacal islands scattered across an archipelago of the Caribbean Sea of Panama.  
In San Blas Islands you can admire breathtaking views, ample opportunities for relaxation, and some the freshest seafood in the world.  What more do you need?
6. Tikal in Guatemala
The iconic ruins of temples and palaces in this ancient Mayan city are a perfect spot for the tourist with a penchant for history and culture.  
In Tikal The ruins are truly incredible, and the humbling temples, including the massive Temple of the Great Jaguar, one of the oldest and largest in the world, definitely worth an in-person visit.  
7. Tortuguero National Park in Costa Rica
This rainforest-covered sandbar is a major nesting site for green turtles! If this isn't exciting enough, Tortuguero's nearly untouched mangrove swamps are also home to lots of other amazing wildlife, including jaguars, tapirs, and manatees.  
8. Bocas del Toro in Panama
Last but not least, for those in search of some serious rest and relaxation, the islands of Bocas del Toro might be your spot.  There is no shortage of things to do here, including snorkeling and a mandatory visit to Starfish Beach on Isla Colón, so called thanks to the many sea stars on its ocean floor,Without a doubt one of the best things to do in Panama.  
Apart from these beautiful tourist attractions, Central America has much more to offer, including a rich culture and the notorious hospitality and kindness of its people.
Don't wait any longer, adventure, beauty and peace await you in Central America with Asuaire Travel!