Costa Rica has long been known as a great vacation destination, featuring amazing landscapes from beaches to mountains to incredible rain and cloud forests, with a varied climate that do that always the best time to visit Costa Rica, and more flora and fauna than you'll know what to do with. Here Asuaire Travel shares 10 interesting facts in your trip to Costa Rica that are sure to land it on your travelling bucket list.
1. Costa Rican currency is as colorful as its terrain.
Every denomination of Costa Rican cash features a different landscape and animal chosen from Costa Rica's vast biodiversity, including the white-tailed deer, capuchin monkey, sloth, and blue morpho butterfly, all of which can be easily sighted here.
2. Nicoya is one of the top five Blue Zones in the world.
Nicoya, on Costa Rica's western coast, is a well-known Blue Zone, meaning that its inhabitants commonly live active lives past the age of 100.
3. Native Costa Ricans call themselves ticos and ticas.
This affectionate nickname for all Costa Rican people and things was born from a nationwide mannerism of ending diminutives with "tico", as in "chiquitico", rather than "chiquitito" as they do in other Spanish speaking countries.
4. Bahia Ballena is literally shaped like a whale's tail.
The popular beach of Whale Bay, or Bahía Ballena, is actually the shape of a whale's tail when seen from above. Unsurprisingly, this is also a great spot for whale-watching. Impressive! Isn't it?
5. Costa Rica contains 5% of the world's biodiversity.
We weren't kidding when we said Costa Rica's biodiversity was vast. You'll never run out of wildlife to see here!

6. You can watch the sun rise and set in one day.
Costa Rica's beaches are world-renowned for many reasons, not the least of which is the fact that you can watch the sun rise from the horizon on the Caribbean coast and admire it falling on a beach on the Pacific coast, all in one day!
7. It has no army.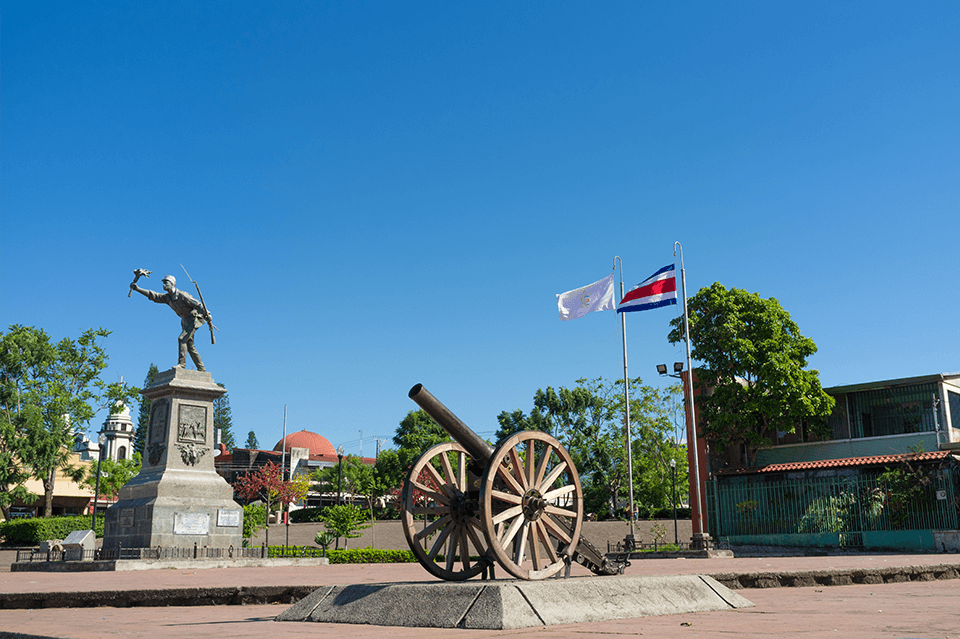 Costa Rica has proudly boasted the absence of a military since 1948, after it was abolished in the wake of victory in that year's civil war.
8. Costa Rica generates more than 99% of its electricity using renewable energy.
One of the most important interesting facts about Costa Rica is that the country generates most of its energy using five renewable sources: hydropower, wind, geothermal energy, biomass, and solar.
9. It has 5 active volcanoes.
There 5 costa rica volcanoes that are active,they are the Poás, the Irazú, Arenal Volcano, the Rincón de la Vieja, and the Turrialba. And they're all spectacular!
10. It's categorized as one of the happiest countries in the world.
Which should come as no surprise given everything this small Central American jewel has to offer. Is it hard to believe? Come on down and see for yourself; we promise you won't be disappointed!
Learn more interesting facts about Costa Rica on your next trip to Central America!