The Caribbean beaches in Costa Rica are some of the most popular destinations for those who love nature, tranquility and adventure. 
This "life to the full" country is a true paradise, with 20% of it protected by national parks and nature reserves. But the Caribbean coastline is something else entirely. 
The Caribbean coast of Costa Rica is a vision of the world and a philosophy of life. If you are thinking about visiting this country and you are wondering which are the best Caribbean beaches in Costa Rica, then here is a selection of the beaches we think are unmissable for soaking up the slow lifestyle it embraces.
Planning your trip
It is important to remember that the rainy season in the Caribbean is from November to February and then from May to August.
And if you want to surf, you should find out when it is safest to do so. If you are more interested in wildlife, you should check the biological calendar to find out which native species you can see where and when.
There are high numbers of mosquitoes on this coast that may carry diseases, so it is important to take precautions like using repellent and wearing long sleeves and trousers at the beginning and end of the day or if you visit an area with lots of vegetation or wetlands.
In the wild north
The north coast, between Río San Juan and Puerto Limón, is open ocean, which means strong currents and big waves. These strong currents mean that although the beaches are covered in beautiful dark sand with amazing landscape and nature, they are not suitable for swimming or water sports, and they are hard to reach.
Tortuguero
Tortuguero beach is located in the Tortuguero National Park, which is also known as the Amazon of Costa Rica, and its name will give away why this is one of the most popular Caribbean beaches. It is here that leatherback and green turtles come to lay their eggs.
The small town of Tortuguero lies in the middle of the jungle, between the rivers and the beach. You can not get there by road, only by boat or air and that is precisely its charm: escaping from everyone and everything. 
Staying in one of its simple, colourful wooden houses, and going out at night to see hundreds of turtles arriving on the beach to lay their eggs is an amazing experience that no one will want to miss out on. 
However, it is extremely important to make sure these visits are as respectful as possible: always with a guide, no torches and dressed in dark clothes.
Don't worry if your visit is not during the spawning season because there are plenty of other things to see. Taking a trip through the canals and being surrounded by the jungle—its flora and fauna—will make the trip worthwhile. 
We recommend that you take these trips early in the day so you are not there at the same time as all the other visitors. This will give you more chance of seeing the animals that live in the area. 
Being a humid, forested area, remember to take full precautions against mosquitoes.
The Caribbean beaches of Costa Rica: the south
The southern Costa Rican Caribbean coast starts in the town of Puerto Limón and is a large area where the sea and jungle meet. 
It is one of the places with the greatest biodiversity on the planet and that is why both the Government and different organisations put a strong emphasis on guaranteeing this paradise is protected. 
Being both a tourist area, and incredibly beautiful, it is very vulnerable. As a visitor to the area, you can play your part by travelling in an environmentally responsible way.
Puerto Limón is one of the main towns in the area and has a large port. Many Jamaicans and Chinese landed here to work on train lines to the Caribbean, and together with the large banana plantations, they have greatly influenced the culture and cuisine of the area. 
The mixture of cultures and the availability of certain ingredients like bananas, coconut and fish characterise the Caribbean cuisine of Costa Rica.
Playa Bonita and Playa Piuta
Further south, Caribbean beaches in Costa Rica like Playa Bonita or Playa Piuta are favoured among professional surfers. 
If you are an experienced surfer, you will love this rocky coast with its steep slopes. If you want to swim or surf, but you don't have much experience, you will need to be careful because these beaches have steep slopes and intense waves.
This is a great place to sit in a restaurant on the beach and try 'rondón', a fish soup that is served with yucca and sweet potato in this area.
Impressive nature in the Cahuita National Park
The Cahuita National Park is home to some of the best Caribbean beaches in Costa Rica. This park was created in 1970 to protect the coral reef that is in danger, so you can only visit a small part and only with a guide.
Cahuita
Cahuita is a small port that lies at one of the entrances to the national park that goes by the same name.
It has plenty of accommodation, cafes and restaurants and that relaxed feel of a genuine Caribbean village. 
Here you can sample typical dishes like Gallo Pinto, a very spicy rice stew with beans in coconut milk that is traditionally served for breakfast.
There are several beaches in the park where you can make the most of the calm waters to swim or dive, as well as see some of the local wildlife as you walk along the shore. 
Sloths, toucans, pelicans, green ibis and herons will be very close by and you will easily be able to watch them. Camping is permitted, but you will have to protect yourself from mosquitoes and snakes, so it is better to pitch your tent away from vegetation.
If you like diving, then this will be heaven for you. The imposing reef attracts a large amount of colourful marine fauna and even two shipwrecks that will be the highlight of your adventure.
Playa Blanca
Playa Blanca is the most popular beach in the area, as it is very close to one of the entrances to the national park and has plenty of facilities like drinking water and showers. 
As the name suggests, the sand is white and the crystal waters form a huge lagoon thanks to the coral reef close by. It is perfect for a family trip or for total relaxation.
Puerto Vargas
If you continue along the Playa Blanca coast, you will reach the tip where the reef is closest to the coast. 
This is the perfect place to practice diving. About two kilometres further along you will find this beach: Puerto Vargas is one of the best preserved beaches in the park, and is surrounded by jungle with an amazing abundance of vegetation and wildlife.
From beach to beach by bike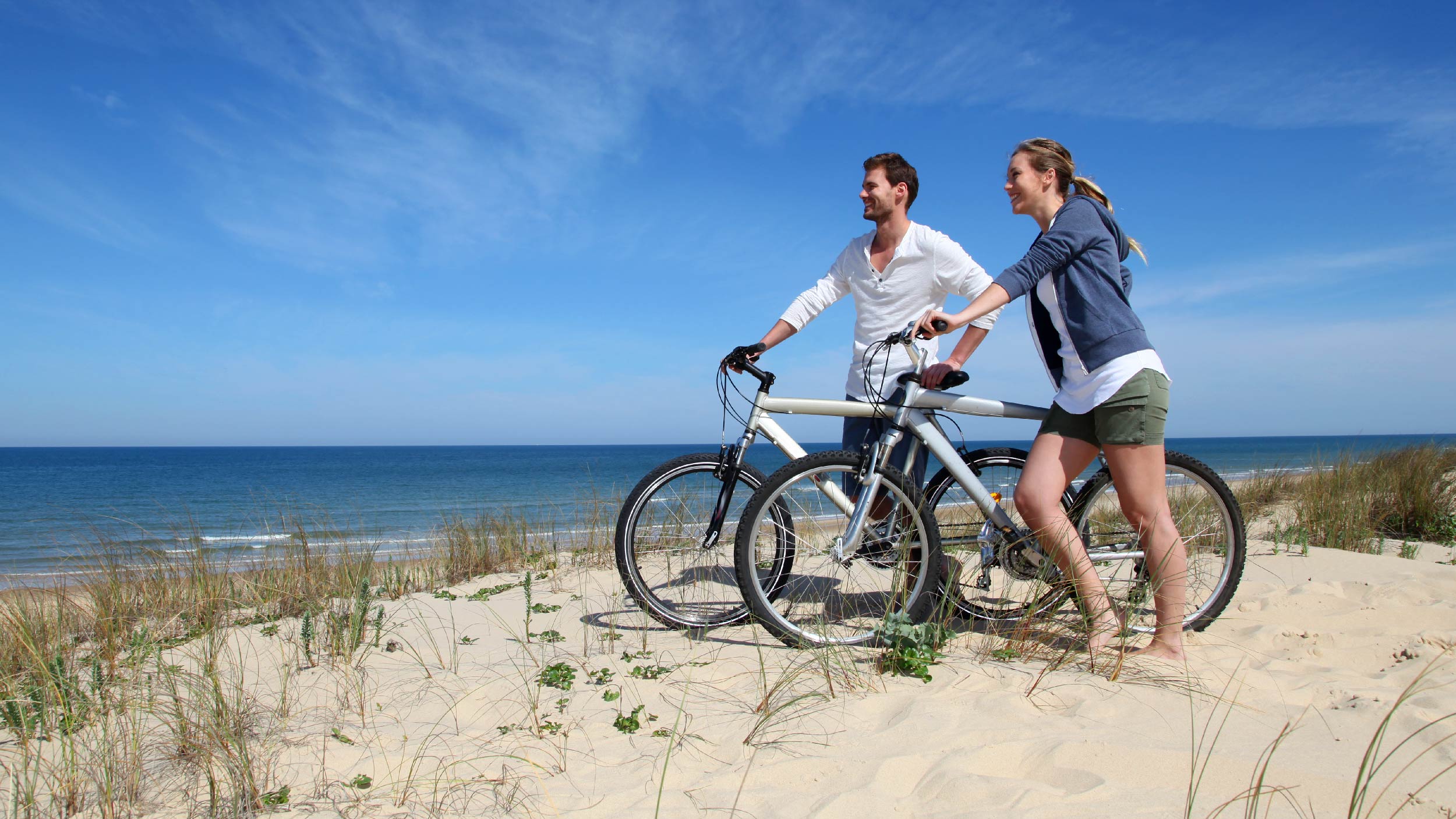 From Puerto Viejo to Punta Manzanillo there are only fifteen kilometres that are relatively flat, which makes this stretch of coast ideal for exploring by bicycle. Many hotels and local businesses rent them for an affordable price. This ecological method of transport will allow you to travel around at the perfect speed and height to enjoy the landscape without missing anything while getting a truly unique perspective. In this small area, you can swim and eat lobster on some of the most beautiful beaches. There is something for everyone!
Playa Negra
As you can imagine, this beach that is over ten kilometres long is known for its dark volcanic sand. It is known for the abandoned boat on the shore with huge amounts of vegetation growing inside.
It is located near Puerto Viejo and is a favourite beach for beginner surfers, because the waves and currents are fairly gentle. It is always best to check local conditions, as there may be days when currents are stronger.
As you walk north, the beach gets quieter and quieter and you could have it all to yourself. This is a good place to rent quiet accommodation away from the usual noise.
Puerto Viejo
Puerto Viejo is a very pleasant holiday town with a lively nightlife and a relaxed Caribbean lifestyle where the locals travel mostly by bicycle. It is a favourite destination for tourists and surfers in search of wild waves, reggae and unwinding.
As it is the area's main town, here you can go shopping, have a drink and eat in its many restaurants and cafés with a surprisingly cosmopolitan feel. If you have a sweet tooth, you should try the 'pambón' (spiced bun with fruits) or the 'plantintá' (sweet pie filled with coconut and green plantain).
The beach is famous for being a surfing mecca. From December to April, many experienced surfers meet here to practice, although if you are a beginner, you would be better off choosing an area with less of a swell.
Playa Cocles
Playa Cocles is one of the largest beaches on the Caribbean coast; it is very well connected, with good infrastructure (one of the few beaches that has a lifeguard) and is one of the most popular with tourists. Between the Puerto Viejo beach and Playa Cocles, there is a coral reef that acts as a barrier, creating a huge aquarium where you can enjoy free diving. It is also the perfect beach for surfing at any level as well as fishing and other water sports.
Playa Chiquita
Following the cycle route, the next beach you will come across is Playa Chiquita. At just two kilometres long, it lives up to its name and is usually less busy than some of the other surrounding beaches, because it has open sea and strong waves. As well as that, the small bays are only accessible by paths through the jungle, making it a private paradise.
The pristine beaches of the Gandoca Manzanillo Wildlife Refuge
This area filled with coconut trees is one of the most beautiful parts of the entire Costa Rican coast and instantly makes us think of Robinson Crusoe and pirates. 
This nature reserve protects both coral reefs and mangroves and inland forests. It is the perfect place to find tranquility at the same time as enjoying the most unspoiled and wild Caribbean landscape.
If you stay here you will be surrounded by the most exuberant vegetation and the beaches are perfect for various activities: from dolphin watching or seeing leatherback turtles laying eggs, to kayaking, boating and various types of diving.
Punta Uva
Punta Uva is a quiet beach with a reef that protects it from open sea waves and makes it perfect for swimming with family. This area is not as lively as Puerto Viejo, so it is perfect for a really quiet holiday.
There is accommodation of all types as well as basic facilities. If you are looking for a party in the evening or to buy something more specific, you will need to go to Puerto Viejo. 
The distance of only eight and a half kilometres is perfect for a pleasant bike ride.
Gandoca Manzanillo
This beach is the last stretch of coast before reaching the Panama border. It is a remote area where tourism has not yet taken its toll and is therefore one of the most unspoiled areas. 
The Gandoca lagoon is still inhabited by extraordinary manatees and you can find even crocodiles in the wetlands.
The activities you can do here are closely linked to the environment and its protection. 
This is one of the beaches where you can see four species of sea turtles lay their eggs: leatherback (the largest sea turtle in the world), hawksbill, loggerhead and green. 
You can go on long nature walks always taking into account that this area is especially hot and sunny, so there are usually quite a few mosquitoes. It is very important to remember sun protection: a hat, drinking water and insect repellent.
Here, you can try Costa Rica's Caribbean 'casados' in one of the no-frills establishments. Casado is an everyday dish with meat or chicken stew served with a side dish of vegetables, plantain and rice.
 Here, everything is cooked with coconut milk which makes it delicious. 
Playa Mona
At the end of the Gandoca Manzanillo, you will find Punta Mona and its beach. The landscape here is spectacular: a small island covered with palm trees and a viewpoint with incredible views. The contrast of the mustard colour of the sand with the range of blue, green and violet hues of the water will take your breath away.
We hope that our guide to the best Caribbean beaches in Costa Rica is useful for planning your visit to this natural paradise. Although to prepare yourself fully, remember how important it is to soak up the philosophy of Caribbean life: tranquility, enjoyment, relaxation and of course, life to the full!