We know that a holiday with children is an adventure, especially if you are traveling to another country.If you don't know where to go in costa rica it can certainly be a bit stressful planning a trip where the whole family can all enjoy the destinations and activities. But don't worry. We have several excellent choices for your holiday with children in Costa Rica.
1. Sanctuary of Sloths and Rescue Center Tour
Located in the province of Limón, this sanctuary is in charge of the rescue, care, and protection of sloths.
They are called "Sloths" because they spend most of their life sleeping on the branches of trees.
This tour is a perfect choice for a family vacation because, in addition to visiting the sanctuary, you'll also walk through the tropical forest and take a boat trip.
No doubt this tour is perfect for both children and adults!
You can learn more about this tour in our video.
2. Tortuga Island Trip
Tortuga Island is a beautiful destination, recognized for its crystalline waters. You won´t have to worry about anything in this tour, which makes it an ideal tour for a family vacation. We'll take you to the island on a catamaran where the whole family will enjoy a breakfast together with ocean views.
Once on the island, you can participate in various activities, such as renting a kayak, taking a canopy tour, or just enjoying the beach. Enjoy lunch with live music at midday and have a blast with your loved ones!
3. Whale and Dolphin Tour
This is an incredible experience definitely worth including on your vacation with children in Costa Rica. The Marino Ballena National Park is home to humpback whales and bottlenose dolphins, one of the only places in the world you can watch them in their natural habitat.
Your kids will be amazed while observing large pods of bottlenose dolphins performing acrobatics, or witnessing a humpback whale teach its baby to breach. This tour is for everyone to enjoy!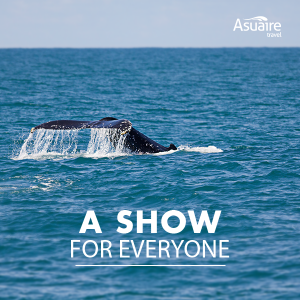 On our tour you can also dive and explore the corals and visit the huge natural caves of Ventanas Beach.
4. Celebrate the New Year in Costa Rica
If you are looking to spend a different kind of New Year with your family, this option is for you. It's one of the best places to visit in Costa Rica, the Arenal Volcano National Park. Take a dip in the hot spring waters, a fun activity any kid will love! Visit a coffee plantation and learn about how coffee is produced,without a doubt it is one of the most important Costa Rica volcano.
Throughout the trip, you'll experience many unique and entertaining adventures. Learn and explore together and have the time of your lives.
We assure you any of these options will fit your family vacation. If you want to learn about other destinations remember that it is always the best time to visit Costa Rica.