Paradise beaches, postcard landscapes, forests filled with incredible species, a rich diversity of fauna. These are just some of the many attractions you can enjoy on the Manuel Antonio Beach in Costa Rica, a dream destination that is just waiting to surprise you with a unique holiday. 
If you don't know where Manuel Antonio is in Costa Rica, then keep reading while we tell you everything you need to know about this place. 
When you have finished reading, it won't be long before you are booking a flight to lose yourself in this destination which, as the locals say, is life to the full. You'll have lots of reasons to visit this unique corner of Central America.
Here you will find Manuel Antonio in Costa Rica
Manuel Antonio is the smallest national park in Costa Rica and also a small town located just 7 kilometres away from the port city of Quepos in Costa Rica's Central Pacific area. 
Manuel Antonio National Park
Manuel Antonio National Park is a natural conservation area 157 kilometres from the city of San José, in the province of Puntarenas.
It has an area of 2,000 hectares plus 55,000 hectares of marine area. This whole area is dedicated to conservation, research and ecological tourism.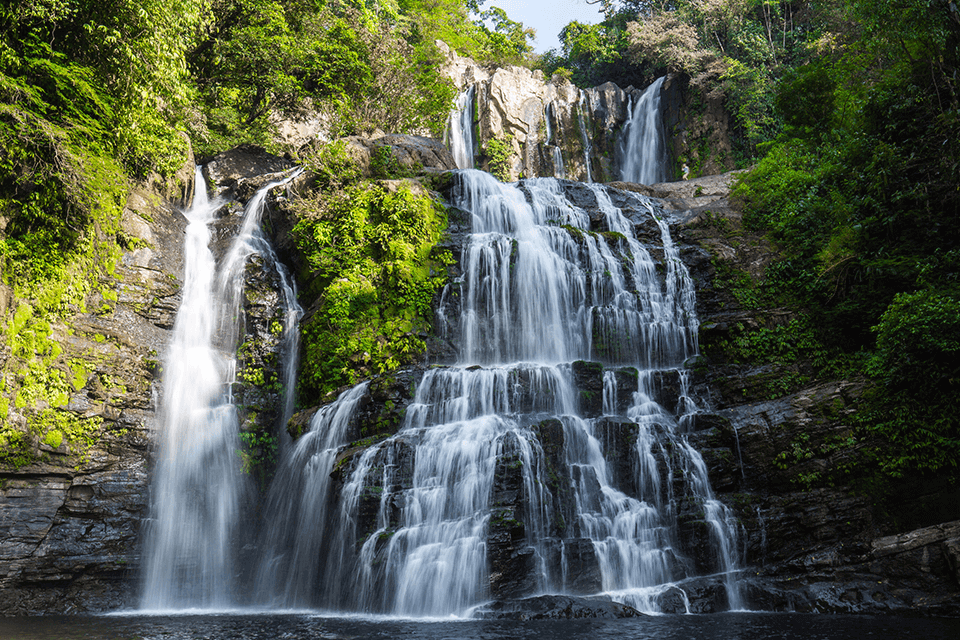 Created in November 1972, it was featured in the prestigious Forbes magazine on the list of the twelve most beautiful parks in the world, offering one of the most impressive landscapes in the country. Despite its small size, many tourists from all over the world choose to come here for its beauty and diversity.
How to get to Manuel Antonio in Costa Rica
If you fly to Costa Rica's San José airport, there are various ways to travel those 157 kilometres from this city to Manuel Antonio. 
Here are various ways you can get to Manuel Antonio in Costa Rica, and you can choose which suits you best.
You can travel by public transport. 
There is a bus that departs from the Costa Rican capital and goes directly to the coastal town. It leaves from the Tracopa Terminal, with several buses making the journey between the early hours of the morning and late afternoon. 
The journey takes you down Route 27. There are also regular journeys that go through the Cerro de la Muerte, Puriscal and Costanera. The journey lasts about three and a half hours and costs between 5 and 8 euros per person.
If you are looking for comfort and speed, it would be better to use private transport.
You can take a taxi from San José airport for a faster journey than on the bus. 
However, that is considerably more expensive at up to 160 euros. That being the case, taking one car with several people in it is a convenient and economical option. 
The same goes for using Uber. The journey will take the same time of two and a half hours and the price drops to about 70 or 80 euros.
Another option is renting a car and driving to your destination on a good quality road whilst also enjoying the beautiful scenery. 
The price to rent a car is higher and varies depending on the model. Usually, it is just over 30 euros per day, plus the price of fuel. 
The fastest and most convenient way to travel is taking the small, safe airplanes that fly to the Manuel Antonio region up to three times a day. 
The wealth of Costa Rica's Manuel Antonio Park
The countless riches it is hiding make Costa Rica's Manuel Antonio Park a true paradise. It combines rainforest, coral reefs and beaches, a peculiar mixture of contrasting landscapes that will surprise you when you see them all together. Some people think of it as a biological island. This is not surprising, since it is surrounded by cultivated areas or land dedicated to livestock, and wildlife is mainly in the park. 
There are a total of 109 species of mammals, 352 birds and countless marine animals. There are two species of sloths, four types of monkeys, white-nosed coati, raccoons, agouti, and white-tailed deer. You will also find iguanas, snakes and various types of lizards. And then in the air you can often see the black hawk, osprey, brown pelicans and various types of kingfishers.   The sea is full of other interesting creatures like the angelfish, sea urchins and starfish.
Manuel Antonio's flora deserves a special mention. It includes mangroves, jungles, beaches and even marine vegetation. Some of the most unusual species include the black and white courbaril, the savanna oak, the rain tree, a timber species that is in danger of extinction, the milky way tree, and chamomile. 
The ticket  price is 16 euros per person, although this may vary depending on exchange rates. Children get in free. The opening hours for the public are from seven in the morning to four in the afternoon, from Tuesday to Sunday. 
To get the most out of the Manuel Antonio National Park, you should book a tour so you can visit the park with a guide and not miss any of the hidden treasures it has to offer. We will have a look later at some of the most interesting things.
Costa Rica's Manuel Antonio beach
Can you imagine getting to visit the beach of your dreams, just like the ones you see in travel magazines or on the pages of influencers who travel to every corner or the world to find the most beautiful places? 
How many times have you imagined walking along a beach with fine white sand, letting the perfect crystal clear sea water run over your feet? This is an experience not to be missed if you are out walking when the sun is out, letting your skin tan and letting all your cares drift away.
Why not make that your plan for the next holiday you take?
 The Manuel Antonio beach in Costa Rica will be like all your dreams come true. And we are not exaggerating. In 2019, it was one of the 25 beaches featured on TripAdvisor's 2019 Traveller's Choice, and was the only one in Central America to make it onto the list. Costa Ricans also love it, so much so that it is considered a national pride.
The national park's main beach lies between tropical vegetation and the infinite blue of the ocean, where, if you are lucky, you will spot dolphins or whales. 
Despite feeling almost like you are in the wild, there are facilities like toilets, showers and drinking water.
We would recommend visiting between November and May, and spending the whole day there. 
You must of course be careful with your belongings. The locals say it is normal for the animals to take things that they find nearby. 
There is also a ban on feeding the animals. The reason being to protect the local species' diets. You can bring ready-made food like sandwiches and/or fruit, but nothing packaged. Always take proper care of your things because monkeys and raccoons will not think twice about getting into your belongings.
It is important to wear a bathing suit, towel, sun lotion and insect repellent.
The other beaches in Manuel Antonio, Costa Rica
Although we have covered the one that is best known and also the most beautiful according to locals and visitors, there are other beaches in Manuel Antonio, Costa Rica. They are less popular, but that does not mean they are not worth a visit.
Here are the beaches you can visit while you are in the national park:
Espadilla Sur, which is 3.5 kilometres long and has darker volcanic sand and lush vegetation that is inhabited by plenty of wildlife. This is a good place for scientific tourism because of the coral banks and the large number of fish and animals that can be seen.
Puerto Escondido lives up to its name and is the most remote beach in this paradise. It is 800 metres long and surrounded by cliffs. Check the tide schedule beforehand, because it disappears in high tide, which means you will not be able to see it.
Gemelas

is the name given to beaches that look like twins, because one piece of land links them together.

This is a great place to take pictures and swim in the warm turquoise waters.
Biesanz is the final one on the list. It is the least crowded and the most hidden. Like the others, it is rich in surrounding nature and the species that live there. Here you can find things like the squirrel monkey and the capuchin monkey. This secret hiding place will be a refuge for solitude, far from anywhere crowded with tourists.
We recommend going to Manuel Antonio and finding new beaches that you are sure to love.
What can you do in Manuel Antonio?
The most popular thing to do is a guided hike in the Manuel Antonio National Park. The best thing to do is go with a specialist guide and binoculars so you can see everything up close. 
Another amazing tour is the one that will take you out to see humpback whales and bottlenose dolphins. You will have to pinch yourself to make sure you are not dreaming. This is a boat tour on either a sailboat or one of the catamarans that are used in the area. Dolphins live permanently in the region so they are not hard to find. With whales it depends on migration. They are in the area from the end of July until the beginning of November and then from mid-December to April. 
This trip also allows you to snorkel to see all the colourful fish and, if you are lucky, sea urchins and starfish. All for less than 100 euros.
This option, which lasts for four hours, is a simple activity, making it suitable for anyone over the age of 3. So there is no reason not to go on this amazing trip.
Activities also include things as diverse as surfing, kayaking, sport fishing, rafting and the zip line between trees. If you have the chance, visit the Nauyaca Waterfalls. They are 45 metres high and incredibly impressive to any visitor. The journey there is fantastic. 
Where to eat in Manuel Antonio
Although Manuel Antonio is an enclave dominated by rainforest and the most diverse species, it is not completely untouched in terms of tourist facilities. 
People have left their mark in the form of hotels and restaurants. And there are plenty of them. After all, this natural park is one of the most visited places by people from all corners of the world. 
One of the most incredible places to eat is El Avión. As the name might suggest, it sits in an old wartime aircraft that was designed for a very different purpose to the one it is fulfilling now. It was featured in the British newspaper, The Sun as a recommended place to visit in Costa Rica.
Café Milagro is another place that comes recommended. The name turns heads, and so does the coffee with ice cream that they serve, as well as other things. There are also exquisite dishes that diners can try at lunch or dinner. If you are lucky, you might sit down at your table and see a sloth in one of the nearby trees.
If you like Mexican food, particularly tacos and fajitas, do not forget to visit Taquería Sancho's and enjoy their delicacies. They will give you the energy you need to carry on enjoying your visit.
The wood grill is a speciality at El Lagarto, another place you cannot miss. The flavours in their dishes are as authentic as the decoration.
Where to buy souvenirs and other things
Do you like to buy souvenirs to remember your trips? Or are you looking for gifts to take back to your loved ones? Manuel Antonio is home to colourful stalls where you can buy clothes, accessories and various souvenirs. Prices are often higher than elsewhere. So bear that in mind. 
If you need some medicine, there are some well-stocked pharmacies in the area. 
Now that you know where Manuel Antonio is and all about its tourist attractions, it is time to start planning your trip to this unmissable paradise. Any holiday to this part of Costa Rica will be unforgettable. Discover this unique destination and enjoy everything it has to offer you. This is life to the full!