More and more people are asking where Tortuguero is and how to get there, what to do or where to stay in this Caribbean paradise. And this is because the Tortuguero National Park or the Amazon of Costa Rica, as many know it, is one of Costa Rica's best tourist attractions.
If you are thinking of visiting this amazing place, here are some things you should know before you take your unforgettable trip.
Do you know where Tortuguero is?
The Tortuguero National Park is on the country's Caribbean coast, in the Limón province. It is about 80 km from the city that goes by the same name in the Colorado district. In the canton of Pococí, to be precise.
It stretches over an area of 18,946.9 hectares of land and 52,265 km of sea, including the famous canals, formed by natural rivers and lagoons.
Historical facts about the Tortuguero National Park
Tortuguero is a region that began to develop with the arrival of the railroad to Costa Rica in 1890. This project brought in huge numbers of Afro-Caribbean people who carried out the work.
Subsequently, the area's main source of income was wood. From 1940, several timber companies set up in the area until they went out of business. Then the residents of Boca Tortuga or Turtle Bogue, as it was known at the time, returned to agriculture, hunting and fishing as their main way of making a living.
In the 1950s, Dr. Archie Carr, a zoologist at the University of Florida, began studying the behaviour of sea turtles and created the Caribbean Conservation Corporation (CCC) in Tortuguero. That was when the region gained international recognition as a unique natural enclave.
The 70s in Costa Rica saw the beginning of a conservation project aimed at protecting the many natural areas and on 24th September 24, 1970, the Tortuguero National Park was established.
In 1979, the government set up trips to Tortuguero from the rest of the country using two boats, which brought the first tourists to the region. That was the beginning of the area's current main source of income: tourism.
Why visit Tortuguero?
Tortuguero is a region of Costa Rica where there is still so much to discover. The main attraction is the impressive biodiversity that promises visitors endless sightings of birds and wildlife.
Tortuguero will give you the breathtaking experience of watching the  turtles laying their eggs and, if you are lucky, seeing the hatched turtles leave the nest. 
The Tortuguero Natural Park is a protected territory that is home to a huge variety of animal species. There are manatees, tapirs, jaguars, raccoons, white-nosed coati, fishing bats, crocodiles, and three species of monkeys. 
Going to Tortuguero is seeing a different side to the Caribbean, it is nothing like the stereotypical scene of beaches with crystal waters and coconut trees. This is nature in its purest form and the most unique experience.
How do you get to Tortuguero?
The main access route to Tortuguero is by boat down the rivers and lagoons. The best way to do this is to use private or public transport or a taxi to get to La Pavona jetty, where boats leave for the Tortuguero National Park.
How do you get to Tortuguero from San José? It is easy to reach from San José because it is only 4.5 hours away.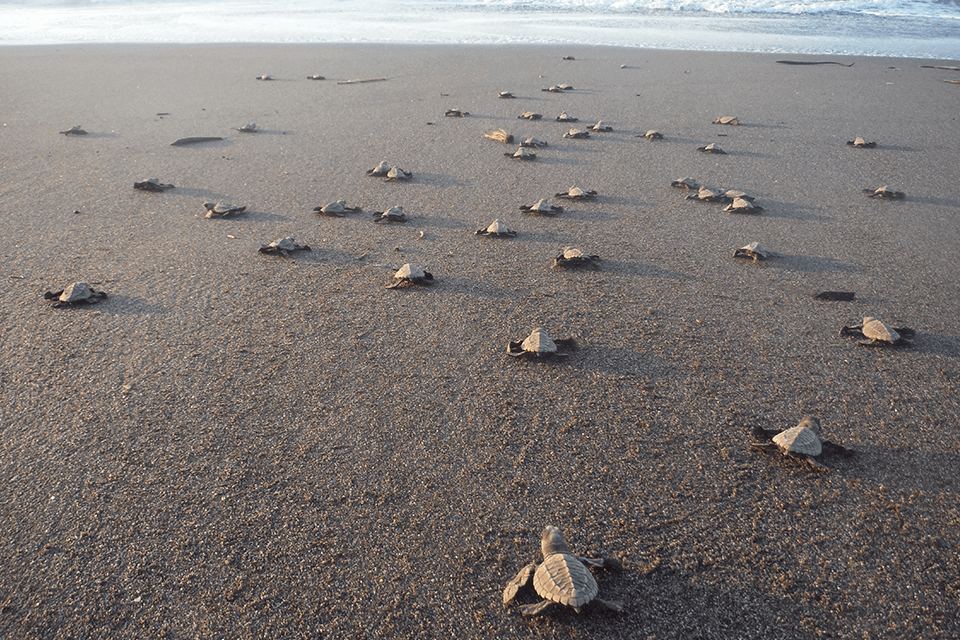 And there is no need to worry about taking a car to Tortuguero. La Pavona has is a secure parking service for a very reasonable price.
But if you are thinking about getting to Tortuguero by bus, it is worth remembering that public transport is very reasonable. The buses are cheap and the journey is short. You can also buy your boat tickets on the bus. The two tickets together cost no more than three dollars.
From San José, you take a bus to the town of Cariari, which costs around 3 dollars, and then the bus to La Pavona.
Another option is taking the boat to Tortuguero from Moín. These boats cost slightly more because as well as taking you to your hotel in the park, they offer the trip as a tour so that you can enjoy the natural wonders of the area for the moment you get on the boat. The trip from Moín can take about half a day, stopping to see animals, birds and the beautiful landscapes in the Tortuguero National Park and nearby reserves like Pacuare and Parismina. 
You can also fly to Tortuguero from San José. It is more expensive but much faster and more comfortable, if that suits you. There are two airlines that operate on this route: Sansa and Nature Air.
What is the weather like in Tortuguero?
Tortuguero National Park is located in one of the wettest and rainiest parts of Costa Rica. Torrential tropical downpours are very common, with about 6000 mm of rainfall every year.
The rainiest months are July and December, and the driest months are March, April, September and October. The average temperature throughout the year varies between 25 and 30°C.
When is the best time to travel to Tortuguero?
Although it is humid, rainy and warm throughout the year, you should bear in mind the least rainy months when planning a trip to Tortuguero, and those are March, April and September and October.
Also, if you want to see the turtles laying their eggs, you should go between July and October. This is the perfect time to see thousands of turtles coming up the park's beaches to nest and lay eggs. In October there are fewer turtles nesting, but this is a great time to see small turtles leaving their nests on the way to the sea.
Things you will need in your suitcase for a trip to Tortuguero
You will need to be prepared to face the heat and rain when visiting this wonderful natural enclave. Here are a few things you will definitely need in your suitcase:
– A raincoat or poncho.
– Light clothing.
– Sun cream.
– Hat or cap.
– Mosquito repellent.
– Comfortable closed shoes that are suitable for long walks.
– Light.
– Binoculars.
– Dark clothes if you want to watch the turtles nesting.
– Trousers and a long-sleeved top for the cool night temperatures and mosquitoes.
Where should you stay in Tortuguero?
Tortuguero has a wide range of hotels for all budgets. From luxury hotels with an average price of $400 a night, to hostels where two people can stay for just $29.
If you want to really get to know Tortuguero and its culture, you should stay in the town itself, which has plenty of reasonably-priced options. For example, the Tortuguero Cabins are $25 a night or there is the Hotel Casa Marbella.
However, there is also a wide variety of hotels along the main canal between the town and where the river meets the sea. There is plenty of accommodation, and many deals include accommodation, meals, excursions and organised tours to see the turtle nesting. These include the Pachira, Mawamba, Manatus and Laguna hotels.
Where to eat in Tortuguero?
The Tortuguero region is somewhere you can enjoy Costa Rica's most traditional dishes in the many restaurants and canteens that are typical of the area.
One of the most common dishes is casado, which is white rice, black beans, fried plantain and some fish or meat. A delicious and filling dish that will only cost about 5 dollars in restaurants like Miss Miriam in Tortuguero town.
At Miss Junie's, another famous restaurant, you can enjoy seafood dishes made with coconut sauce or a spectacular lobster for only $9.
Shrimps are another key ingredient in the country's cuisine. In the Buddha Café they are served in crepes and are perfect for enjoying while you take in the amazing river views.
Desserts like the tres leches cake or the famous Costa Rican coffee will turn every meal into a unique evening where you will discover new flavours at very reasonable prices.
What is there to do in Tortuguero?
If you are wondering what to do when you get to Tortuguero, you will be pleased to hear that there is plenty going on aside from watching turtles nesting. Most of the activities are about making the most of the wonderful natural enclave it lies in.
Watch sea turtles laying their eggs
Enjoy the amazing sight of sea turtles nesting on the beaches in the Tortuguero National Park. A natural spectacle that you can see if you visit between July and October.
Watching the turtles nesting takes place at night, on a tour of about 8 or 10 people that lasts about 2 hours. This activity obviously has to be enjoyed as part of an organised tour because you cannot visit the beaches after 6 pm. The tour costs 20 dollars.
You can see different species of turtles laying their eggs, mostly green turtles and leatherbacks.  There are other species that sometimes appear, like the hawksbill. You can see them in season with the advice of turtle trackers, who are trained to detect when the turtles are coming out of the sea. The beach must be very dark for the turtles to come out of the sea, so you have to wear dark clothes that do not reflect the light and you cannot take photos or use flashlights while you are watching.
Did you know that turtles always return to the beach they were born on to lay eggs? An incredible experience where you can also watch how the newborn turtles run towards the sea. A short but challenging walk that stays in their memory and causes them to return every two years to lay eggs in the same place.
Tortuguero: a unique town
Enjoying the wonders of Tortuguero town is another thing you must do during your visit. An enclave away from the bustle of civilization, where there are no traffic problems, just a paradise invaded by reggae and people on bicycles.
One of the things that attracts the most attention is the murals that adorn the walls. They are full of colour and joy, which goes perfectly with the character of the locals.
One of the most famous buildings is the church. A small, yellow building that fits in well with the region's Caribbean culture.
Did you know that a few years ago the residents of Tortuguero voted against building a road that would connect them with the rest of the country?
The streets include shops where you can buy local crafts and street vendors selling fruit.
Hiking trails in the National Park
This is the cheapest and easiest activity to enjoy in a park filled with nature that invites us to explore every corner.
The National Park trail lasts approximately 2 hours and starts in the town where you will find somewhere to rent waterproof boots from. These are a must for walking along the Jaguar Trail, which is what this trail is known as.
It stretches about two and a half kilometres running parallel to the Park's beach. In egg laying season you can find turtle trails and nests, and in the National Park area you could see three species of monkeys, sloths, snakes, butterflies, and some of the more than 400 species of birds.
Water hiking trails
You could choose to go water hiking on a motor boat, kayak or canoe through the many channels. There is the Caño Chiquero-Mora trail, a 2.3 km route where you can appreciate the dense vegetation in the area. This is a perfect option for nature and sports lovers.
You can also take the Tortuguero river path on a motor boat. This is the perfect way to see the great diversity of amphibians, reptiles and water birds that live here. There are also the Caño Harold and Caño Palma trails.
Explore the rainforest from above
An original and fun way that will allow you to enjoy the natural beauty of the park from the air. Going from tree to tree on a zip line will give you a unique view of this incredible natural landscape.
Enjoy an amazing sunrise or sunset
A unique experience where you can marvel as nature wakes up and watch the dynamics of the many different species of nocturnal animals. This is an activity that will give you complete peace of mind while you walk through the park's sleeping trails listening to the sounds of animals and insects like frogs and snakes.
Climb to the top of Cerro Tortuguero
This is the region's highest point at 119 metres. An adventure that will give you the best views of the town and surrounding nature.
General recommendations to get the best out of your trip to Tortuguero
We will leave you with some useful tips to give you a unique and problem-free trip to the Tortuguero National Park:
– Check your passport before travelling to ensure it has at least 6 months left before expiry.
– Check with the consulate of Costa Rica whether you need to apply for a visa to travel to the country
– Always use official guides: These are people who are trained to act in case of danger and have access to several areas of the National Park.
– Take advantage of all the local resources available to enjoy the activities: boot rental, boat-taxis and more.
– Take out travel insurance that protects you against any unforeseen events.
– Do not underestimate the free tour provided by the hotel. These are a good opportunity to get an idea of the area's impressive wealth of nature.
– Find out about the National Park's rates and regulations. Did you know that sports activities and sound equipment are not allowed in the park? You also cannot take pets or go fishing.
– Book your park entrance in advance. It has a limited capacity and depending on the season, you may have problems getting in. Admission for foreign adults is priced at $15.
Now that you know a little more about Tortuguero and how to get there, the history and all the amazing nature it has to offer, all you need to do now is go! A close encounter with nature in its purest form. Follow our tips, pack your suitcase and watch your dreams come true. You're sure to have an unforgettable experience!