Have you already chosen Costa Rica as your next holiday destination? You've made a good choice! It is not surprising that this country has become a favourite destination among young adventurers. There is so much to do in this wonderful country! You can get lost in the sounds of the jungle, see the amazing volcanoes or relax on the Caribbean coast. But there is one place that we are always recommending: the province of Guanacaste in Costa Rica.
Do you have a few minutes? Have a read about everything Guanacaste has to offer. We are sure that this dream destination will make you want to go and pack your bags and start exploring.
Get to know the province of Guanacaste
Guanacaste is the most northwesterly province in Costa Rica. One of its main characteristics is that, despite being the second largest region in Costa Rica, it is the most sparsely populated. Only 326,953 people live in its extensive 10,140 km² area. Here you will find jungle, lush forests and natural parks, paradise beaches and some lost cities that are worth visiting—like Liberia, Costa Rica, the capital of the Guanacaste province.
What is there to see and do in Guanacaste?
First of all, write down the following list of recommendations on what to see and do in Guanacaste:
The city of

Liberia

in Costa Rica.

The National Parks:

Barra Honda National Park, Diriá National Park, Guanacaste National Park, Las Baulas Marine National Park, Palo Verde National Park, Rincon de la Vieja National Park, Santa Rosa National Park, Tenorio Volcano National Park and Arenal Volcano National Park. 

Guanacaste beaches

: Visit the Coco, Tamarindo, Grande, Samara and Hermosa beaches.
Guanacaste

volcanoes

like the Rincon de la Vieja, Tenorio, Arenal, Miravalles and Orosí volcanoes.

Visit the

Puntarenas beaches

, located in the province to the south and near Guanacaste.

See the famous

leatherback turtles

.

Sports:

There are many places that are great for hiking; there are also plenty of water sports like catamaran rides, surfing or boogieboarding and snorkelling.

Do not leave the country without trying Costa Rican

coffee

and

chocolate

.
Now do you have an idea of everything this region has to offer? So, why not pack your bags and set off on an adventure to Guanacaste?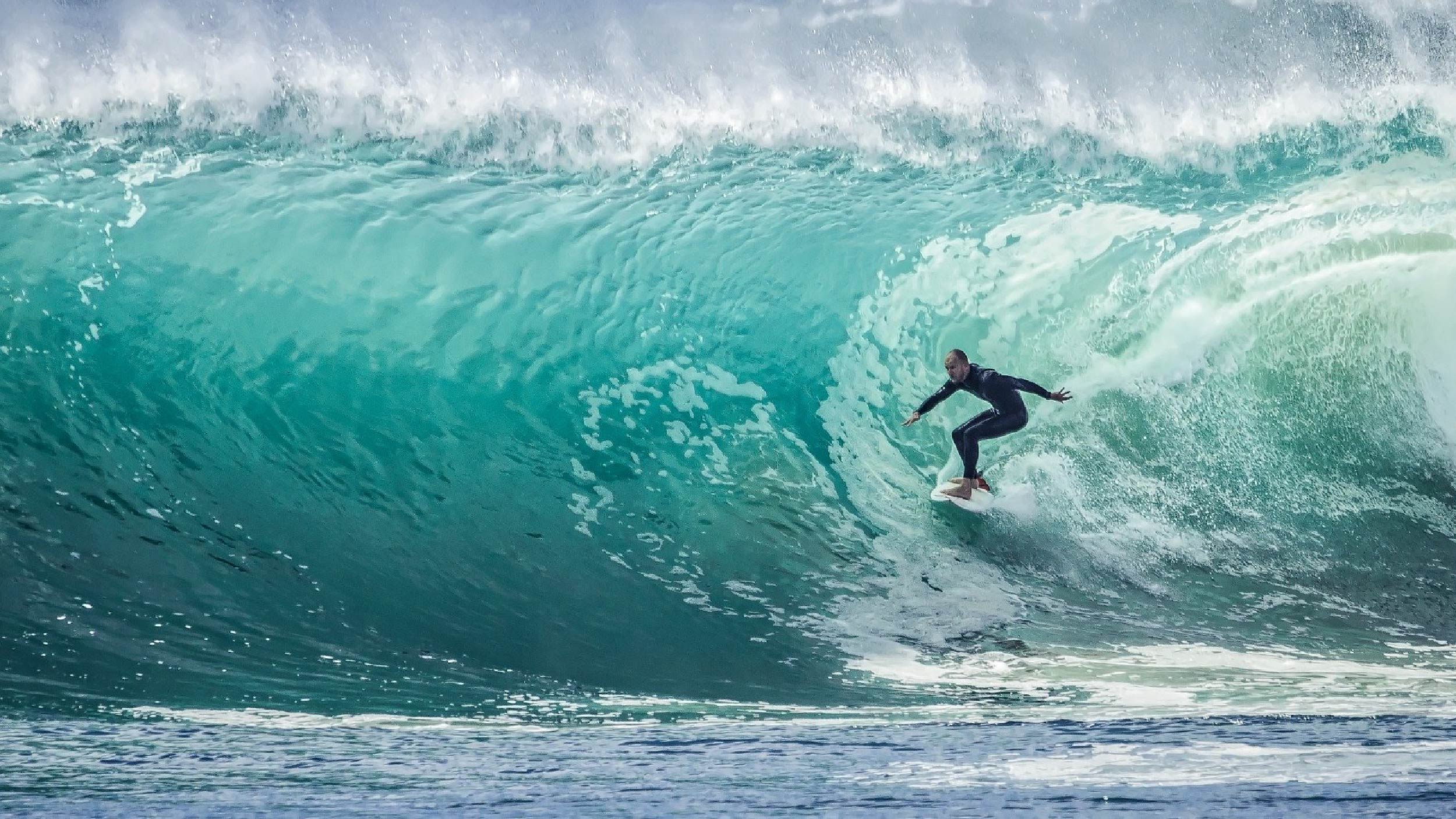 Liberia, Costa Rica, the capital of Guanacaste
If you like, you can stay in Liberia or just visit it, because this city is well connected for reaching other attractions in Guanacaste. It has its own international airport. From Liberia you can take the so-called highway 21 or Calle Real, which takes you to other cities like Nicoya and Carmona. The road also has various roads leading off it that will take you to other villages and places of interest for tourists.
The colonial city of Liberia is a popular tourist destination with some points of interest of its own. It has beautiful churches, a central park and the Guanacaste Museum, which we recommend you visit if you want to learn a little more about the history of this fantastic destination.
The city has just over 55,000 inhabitants and you can also enjoy the lively nightlife in its restaurants and bars. From Liberia you can visit the great white sand beaches, the province's jungles and volcanoes. Also, there are plenty of places to stay in Liberia or Guanacaste.
Hilton Garden Inn Liberia Airport
The Hilton Garden Inn Liberia Airport is a great place to start and finish your holiday. Located in the province of Guanacaste, right next to Liberia airport, it has all the facilities you need to enjoy the start of your trip through beautiful Guanacaste. 
Hotel Bosque del Mar, located by Hermosa Beach in Guanacaste is another great place to stay, and comes recommended by our agency. Here you can relax during a wonderful stay surrounded by greenery.
The Bosque del Mar hotel has great facilities like a swimming pool, jacuzzi and an international restaurant. It also provides information and reservations for excursions. You are sure to love it!
Guanacaste parks and nature reserves
The province is full of them and, depending on the length of your stay, you might be able to see all of them. We will recommend the best ones to visit. We know you will love Costa Rica's flora and fauna.
Palo Verde National Park
This region is in the very south of Guanacaste province, but it is worth going to see the wildlife that live in the forests here. Palo Verde is an area of wetlands, grasslands and tropical forests.
It stands out for its aquatic species and for the diversity of migratory birds that stop in the park. But the surprises don't end there! The park is also home to a large number of reptiles like iguanas and whiptail lizards.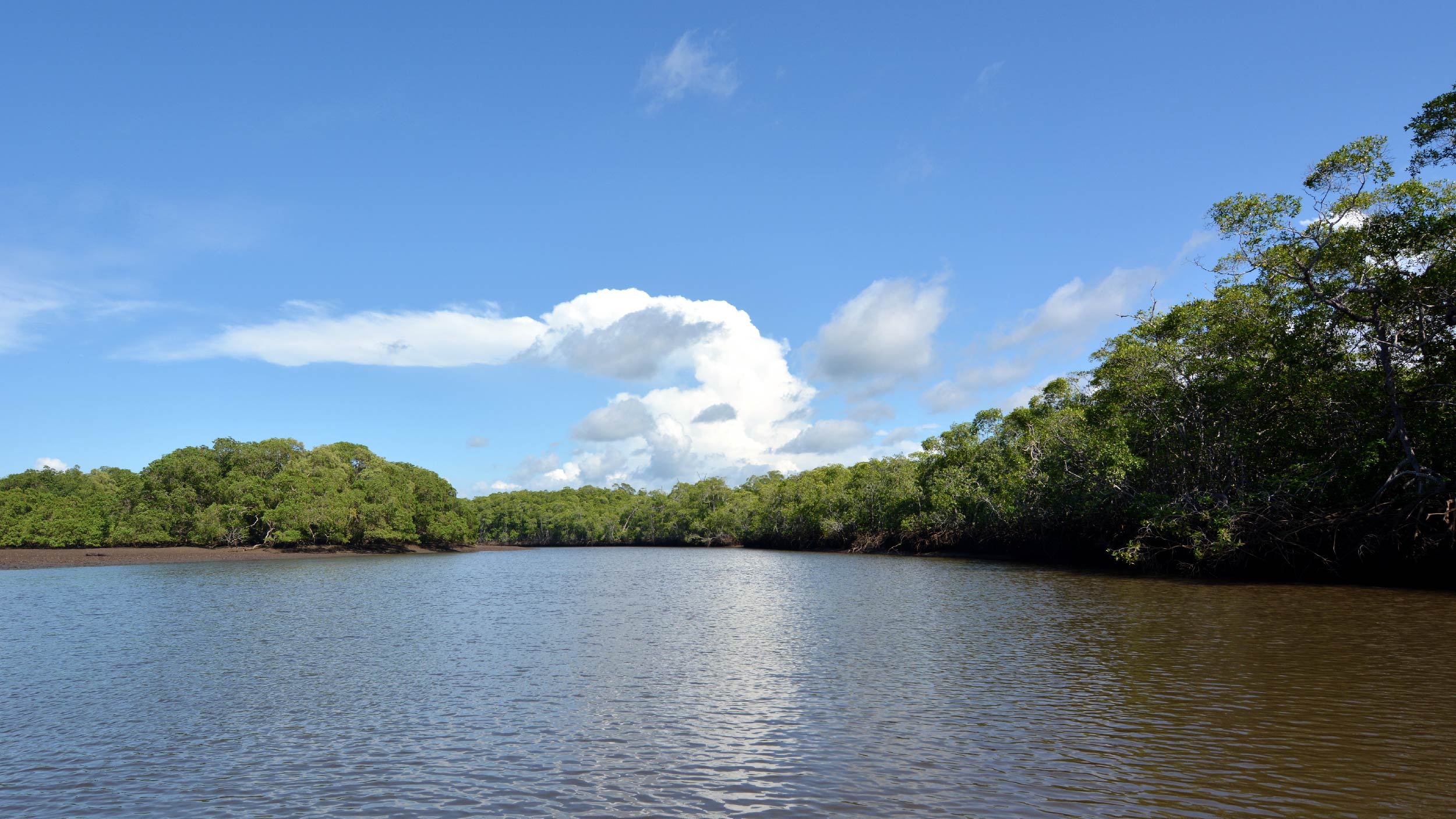 Be sure to go with a guide, as there are rattlesnakes and coral snakes and even huge American crocodiles! Other animals you'll find are sloths, coyotes and deer; there are also howler and white-faced monkeys. Some of the most interesting species are the peccaries – similar to wild boars – and the unusual agouties. The puma also lives in this natural environment.
Palo Verde is only for the adventurous traveller. Dare you set foot here so you can say you've been?
Monteverde Cloud Forest Biological Reserve
Every ecotourism lover must visit the Monteverde Cloud Forest, in Costa Rica's Tilarán mountain range. Dare to step onto one of the suspension bridges to see the Cloud Forest's diverse flora in more detail. Do you know where the name comes from? It's because it lies thousands of feet above sea level, which means that this forest is so high you can walk through the clouds.
The Cloud Forest is not just in Guanacaste, much of the area lies in the neighbouring province of Puntarenas. With a bit of luck, you will see toucans, hummingbirds and other rare birds like trogons and bellbirds. This biological reserve has 26,000 acres of land for you to lose yourself in.
Guanacaste beaches
These are one of the reasons we decided to take an adventure to the American continent. The experience of relaxing on the pristine and natural beaches is priceless. Costa Rica has many of them and there are enough in Guanacaste alone that you won't need to visit all of them. Here are some.
Playas del Coco
They are sunny and fun. This set of beaches stands out for the various activities that you can enjoy there. You will find a youthful and casual atmosphere, alongside fishing, water sports and plenty of fun.
Tamarindo beach
There is so much to say about this beautiful place. It is actually a bay formed by the meeting point of Grande beach and Ventanas beach. The Tamarindo Grande beach is located to the north and is perfect for relaxing, as there are not too many people. This beach it known for its good waves, so surfing is very common here.
The Tamarindo area is home to the Matapalo river and native vegetation like coconut palms, tamarinds and savanna oaks. Nearby there are plenty of restaurants and a good nightlife. Thanks to its cleanliness and safety, this beach has won the Ecological Blue Flag Award.
Samara beach
This is another bay stretching about 4 km with clear sand and gentle waves. This beach is located in the south of the province, next to a small town. It is a quiet and very safe place. From Samara beach you can see the Chora island and the coral reefs. You will love diving through the clear waters. No doubt about it! Take the opportunity as well to visit the lovely town of Samara. This beach also has a Blue Flag.
Hermosa beach
The main feature of Hermosa beach is the grey sand. Its waters are perfect for snorkelling and diving; also for leisurely fishing and sailing. Out of the water, you can tour the coast on horseback.
Nosara beach and Guiones beach
These are long coasts with white sand and strong waves. One of the experiences that the beach provides is in the area called Punta Nosara, where you can see the rocks breaking the waves. The 3 km of Nosara beach has enough space for long walks. The Nosara river flows here, which forms a very beautiful mangrove next to the beach. As you might imagine, this is a great place to surf. Because of the tranquility and peace, Nosara beach and Guiones beach have become a place of spiritual retreat and yoga for travellers looking to unwind.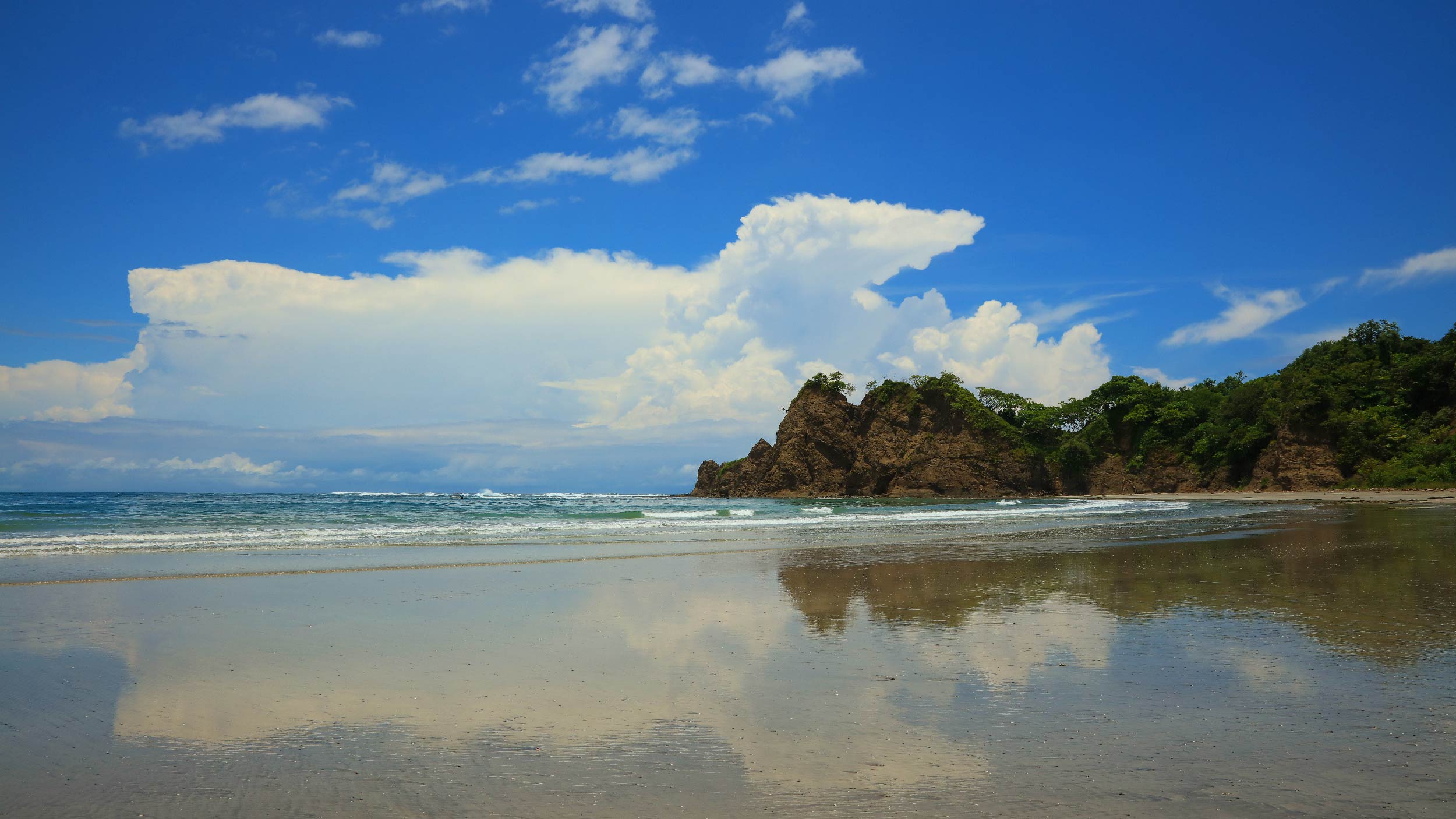 Visit Guanacaste's volcanoes
Costa Rica is a region of significant volcanic activity. We recommend visiting some volcanoes during your visit to Guanacaste province. They are as imposing as they are beautiful.
Rincon de la Vieja
This volcano is in the Rincon de la Vieja national park. You can travel from Liberia, as it is only 15 miles northeast of the city. The volcano is one of the area's attractions, but not the only one. You will also see waterfalls and natural pools. 
Be careful because the volcano is active! Access to the crater is permanently prohibited and if there is an eruption, the Rincon de la Vieja National Park is completely closed. Be sure to check with your Asuaire Travel advisor 
Tenorio volcano
The national park where this volcano is located is in the neighbouring province of Alajuela. In fact, if you decide to visit it, we suggest you also go and see the striking blue green waterfall of the Celeste River in the national park. 
You might spend more time there than at the volcano itself (which is also amazing). It is a huge inactive double crater volcano. Take in everything this environment has to offer you and take photos to look back on. There is no other landscape like it in the world. 
Arenal volcano
It is located in the Arenal Volcano National Park. It is still active and has a sad history. An eruption in 1968 swept away several nearby villages. As with the Tenorio volcano, the national park itself is in Alajuela and not in Guanacaste, although it's close to the border. Here you should visit the lava trails and, perhaps, one of the many hot spring spas.
Miravalles volcano
This volcano lies at an altitude of 2,028 metres above sea level, in the Guanacaste volcanic mountain range. What is the strangest thing about the area? You will be surprised by the yellow hot springs (because of the volcanic minerals).
Miravalles is one of five active volcanoes in Costa Rica. In the Hornillas area, you can walk on one of its craters. From there you will be able to see the hot mud, the fumaroles and the sulphur rivers. It is said that volcanic minerals have healing properties.
Orosí volcano
This stratovolcano is also located in the mountain range, within the Guanacaste national park. It is part of the Guanacaste Conservation Area, which has been declared a World Heritage Site by Unesco. 
It is believed that the last eruption of Orosí took place in 3500 B. C. It is actually part of a group of adjoining volcanoes, which make up the Orosí-Cacao Volcano Complex; it includes the Orosí, Cacao, Orosilito, Pedregal and a fifth nameless volcano. If you visit the national park, take the opportunity to have a look at this impressive complex.
Interesting facts about Costa Rica for visitors.
If you are almost ready to book your trip, let us give you some final tips to make the most of your stay. It is better to take your trip to Guanacaste with some questions answered.
What is the weather like in Costa Rica?
Actually, Costa Rica's climate depends on where you go as it has dozens of microclimates. Should you put swimwear in your suitcase? Yes, definitely. But you won't want to swim at all the beaches. As we have said, the natural park areas are rainy.
 On other beaches, the waves are so strong that swimming is prohibited. To enjoy the sun and go swimming, visit Tamarindo, Flamingo or Sámara, as well as some others. Ask your Asuaire Travel advisor who will recommend the best beach for the activities you want to enjoy. 
Is Costa Rica safe?
In general, since Costa Rica is very poplar with tourists, Costa Ricans tend to treat travellers well. However, you should always follow the advice of experts. You should write down the telephone number of your country's embassy in Costa Rica.
It is important to remember that if you are a woman and travelling alone you must be extra careful and not go into dark, unknown or secluded places. This advice of course also applies to men. You also need to look out for seismic and volcanic activity as well as road safety.
You should not use unofficial taxis or have your valuables visible. In urban areas, be especially vigilant with your luggage and belongings. Always avoid dangerous parts of cities.
The diseases you are most at risk from are dengue, chikungunya, zika and malaria. Always wear long clothes (shirt and trousers) to avoid mosquito bites; and remember to immediately cover your bottles of water and juice after drinking. Do not drink water from rural areas, use your own bottled water instead. We recommend travelling with medical insurance.
Staying in tourist areas and taking some precautions, your stay in Guanacaste Costa Rica should be safe and enjoyable. What are you waiting for? Go and enjoy one of their slushies or typical cocktails under a coconut tree!