Costa Rica is a country that has everything. 
It is filled with paradise beaches, forests and rainforests that cover the whole horizon, unforgettable cities and volcanoes. 
And one of these volcanoes is like nothing else on earth. The Arenal volcano is somewhere you can enjoy a thousand different adventures that your friends will get tired of hearing about. We apologise to them, but here at Asuaire Travel, we want to give you all the information you need to get the most out of your visit to this volcano.
FInd out more about the Arenal volcano
Let's dive in. The El Arenal is a volcano that has given its name to a national park in northwest Costa Rica. It is currently dormant, but it rose to fame in 1968 when there was intense activity with dramatic explosions, lava pouring out and flaming rocks, which ultimately resulted in hundreds of thousands of visitors coming to see the eruptions. 
But is it worth visiting the Arenal volcano if it is dormant? 
Absolutely! Seeing the almost perfect cone at the top of Arenal is worth the trip alone. But it is the forests, biodiversity, frequent wildlife sightings and the dozens of exciting activities that the area offers that have made it a must if you are in Costa Rica.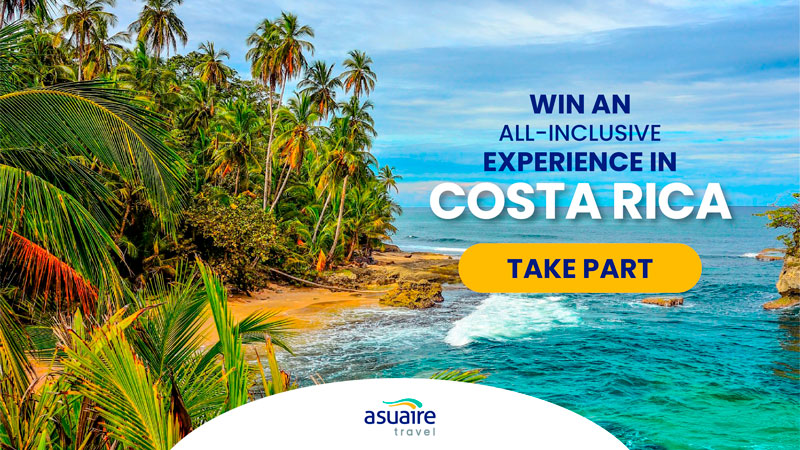 A short history of Arenal
It is estimated that the volcano is at least 7,000 years old. People spent years debated whether it was an extinct volcano, because they thought it had been dormant for 500 years. Of course, that idea was put to bed 1968 when they started to see the activity we just mentioned.
Let's answer some questions about the volcano to help give you a better idea:
– Where is the Arenal volcano? The volcano is located in the province of Alajuela and the canton of San Carlos. It lies in the La Fortuna district, and you can reach the national park from there as it is only 8 km away.
– How big is the Arenal volcano? The volcano rises to 1,670 metres above sea level and covers an area of 33 square km, so there is plenty of room to explore this giant.
– What activities are there to do around the volcano? The volcano environment means you can go hiking or climbing, experience the zip line, bathe in hot springs or explore the Arenal lake at the foot of the volcano. 
The volcano has created a mixture of lush nature, dramatic landscapes marked by fire and fresh water adventures that you will remember for years to come.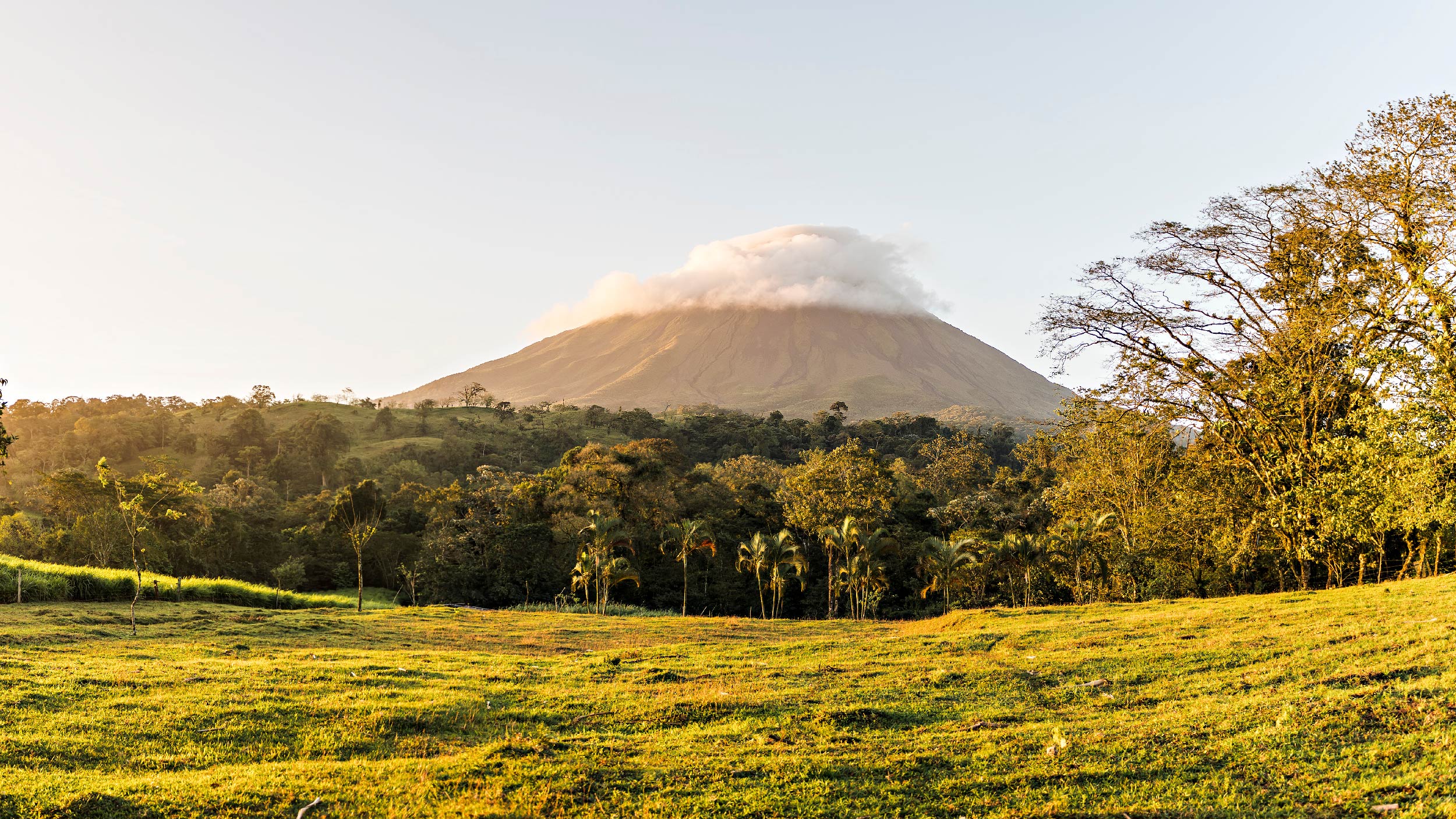 If that doesn't seem like very much information, don't worry, that was just to whet your palate. We have plenty more to share with you so that you can fill your visit with everything this Costa Rican volcano has to offer. The country's own government ranks it in the top 10 places to visit.
How do you get to the Arenal volcano by public transport?
There is no point telling you what you can do when you get there if you don't know how to get to the Arenal volcano by bus or another means of transport. Luckily, there are plenty of ways to get to La Fortuna, the district where the volcano is located.
Most people get to Costa Rica by flying into the San José international airport. Although you will not be flying, we will tell you how to get there from the city, given that the island's capital is where you will find good transport links across Costa Rica.
One option is going by public bus. 
To do this, you need to go to the bus station in Barrio México. The station is known as Terminal San Carlos.
 Keep in mind that Costa Rica has no central bus station like in other parts of the world. Here, each journey leaves from one part of the city, so it is good to find out in advance where exactly your bus leaves from.
But how long is the journey? It's not too long. You can get to La Fortuna in three hours. When you get there, you can take one of the many taxis or tours that go to the National Park. So, in just over 4 hours you could easily be right at the volcano and exploring nearby.
You might prefer to hire a car. This is also possible and is definitely faster than taking the bus. To do this you will have to drive the 130 km between San José and La Fortuna along roads 1 and 702. This takes approximately 2 hours and 25 minutes.
It doesn't matter how you get there, although our tip is that it is better to go by bus so you can enjoy the scenery. The roads between San José and La Fortuna go through beautiful scenery that is worth capturing with your camera, or at least taking in and trying to remember, so you can think back on how beautiful Costa Rica is from the road.
La Fortuna, a stop on the way
It is impossible to get to the volcano without passing through La Fortuna. And we would suggest stopping in the town, as it is now full of things to do and has plenty to offer in terms of accommodation.
Today, La Fortuna is full of places to let your hair down, Costa Rican restaurants and souvenir shops to help you remember the volcano. 
However, if you want to go on a tour we suggest contacting Asuaire Travel because, as with any tourist place, the tours sold on the streets are often not the best. 
In terms of hotels in La Fortuna, they cater to all budgets and needs. 
Staying here is a good way of taking a few days to visit the volcano. This natural site cannot be fully appreciated in a single day as there is so much to see and do, and plenty to do nearby as well.
Get in touch and we will recommend the best place to suit your budget and needs. 
What is there to do at Costa Rica's Arenal Volcano?
You know how to get there and you know where to stay, so now you need to know what to do at the Arenal volcano in Costa Rica to make the most of your visit. There is certainly no shortage of things to do, so choose ones you think sound best or most fun.
The zip line is one of the great attractions around the volcano. As the forest surrounding this giant has continuous peaks and slopes, descending on the zip line is very popular and gives incredible views of the area that you would not see otherwise, so look out for an activity like this.
The hot springs in the area are well known. You can go on an excursion or pay for a private area for an experience that will help you forget about everything else. 
You can sometimes go to the hot springs the locals use but you have to be careful; some are not suitable and they do not have the facilities of the better-known ones. Please get in touch with us to avoid issues. 
Walking around the volcano is something you cannot miss. This is the best way to see the nature that surrounds it. It is also a great way to find streams of lava that have turned to stone and a whole variety of plants that have grown with the nutrients from the volcano. 
Don't forget that the park is open from 8 a.m. until 4 p.m. every day, so organise your day well so you can make the most of your visit.
As well as the volcano, there is also plenty to do around Arenal Lake. Here you can enjoy various water sports. You can kayak or flyboard with the volcano in the background for an amazing experience.
And the water is hiding a secret here: La Fortuna waterfall. 
This is a 70-metre waterfall that drops into a pool where you will want to spend hours and hours exploring the amazing light penetrating the water and relaxing with the sound of the waterfall and the surrounding forest in the background. 
Lastly, we would recommend watching the sunset with the volcano in the background. When you see it, you will wish sunset happened more than once a day, because the colours and sensations that unravel around the area are a real spectacle.
Here at Asuaire Travel, we hope that these tips are useful, and that now you know what to do around the Arenal volcano, a place that will transport you to a natural world that is like nothing else on earth. Have a great trip!